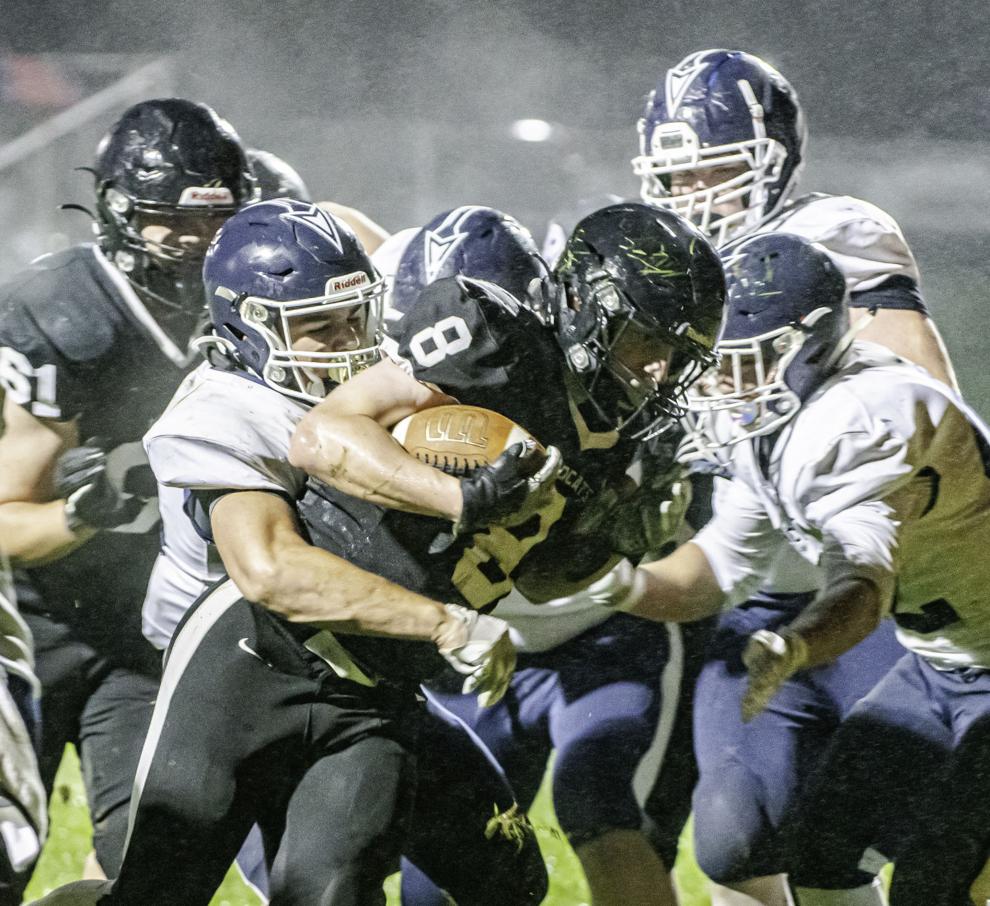 HOMER CITY — The playoffs arrived two weeks early for Homer-Center. Or so it felt, anyway.
In a game worthy of a PIAA playoff game, the Wildcats welcomed District 4 power Muncy on Friday for an inter-district clash of 7-1 teams, and even though the result didn't go their way, they gained a valuable lesson ahead of the playoffs.
Muncy slowed down the Wildcats' offense and escaped with a 17-16 victory to extend its winning streak to eight games while snapping Homer-Center's streak at seven.
"It was a great battle," Homer-Center coach Greg Page said. "I'm telling you, it was just a tremendous battle of wills with both teams. Both teams made some mistakes. We made more costly mistakes that ended up costing us points, or giving them points.
"But I can't say enough about our kids, and Muncy's kids. It was so, so physical. I didn't know that it would go that way, and it did, but I'm proud of our kids. I mean, it stinks to lose the game. Hopefully this shows us what we need to do in the playoffs."
The Wildcats (7-2), who sandwiched seven wins between the season-opening loss to Cambria Heights and Friday's game, wrap up the regular season with Berlin Brothersvalley next week before embarking on the District 6 playoffs.
"The guys are probably going to be really upset," sophomore Landon Hill said. "It's not the outcome we wanted at all, but I feel like we're really good at keeping our heads up and moving forward and staying strong as a team. Obviously, we're going to get back to the chalkboard … and we're going to come back even better and stronger next week."
Following a scoreless but cleanly played first quarter, Homer-Center patiently grinded out an 11-play, 58-yard touchdown drive to open the scoring early in the second. The Wildcats capped their second possession with Hill's 3-yard touchdown run. Hill also ran for the two-point conversion, giving his team an 8-0 lead with 9:00 remaining in the second quarter.
Page hoped it would be a sign of things to come, but it didn't pan out that way.
"That drive was just a thing of beauty and we thought we could come back to that, and we didn't," Page said. "They took some things away. We made some mistakes, but they took some things away. They've got a tremendous front seven, and they've got some athletes in the secondary that made things difficult.
"And both teams were dealing with a wet field and it's kind of hard to do some different things in the passing game. But both teams battled. It was just tremendous."
Muncy reeled off 17 straight points in the second and third quarters. The Indians scored on runs of 11 and 2 yards in the second quarter, and they took a 17-8 lead on Loudon Boring's 24-yard field goal with 7:08 to play in the third.
The Wildcats didn't score again until late in the fourth quarter, when senior cornerback Michael Krejocic intercepted a pass and returned it 21 yards to the Muncy 2-yard line with 4:26 remaining in the game.
Collin Troup scored from 2 yards out on the next play, and his ensuing run for the two-point conversion brought the Wildcats within 17-16 and 4:23 remaining in the game.
"They're the third-ranked team in the state, and we came back on them," Page said. "We made a nice play there by Krejocic to get down inside the 5 and score and put some pressure on them, and we just, we got the ball back and we just couldn't finish."
Homer-Center's defense did its job on the next Muncy possession, forcing the Indians to punt, and giving the Wildcats' offense one final possession.
They advanced to the Muncy 35-yard line before their hopes of a comeback evaporated with their third turnover of the second half. Junior quarterback Cole McAnulty was intercepted when Krejocic slipped in the red zone and the ball bounced off his shoulder pads into the waiting arms of a Muncy defender.
"Playing a team like that, especially ranked as high as they are, they have a lot of threats," Hill said. "They just came out and they played a good game of football. I feel like we matched up well. Obviously, we weren't able to beat them, but they're a really good team. They brought it. We brought it, and we just didn't get the outcome we wanted. It definitely felt like playoffs. The atmosphere, the energy, it felt amazing."