This summer, Indiana University of Pennsylvania Department of Anthropology faculty member Dr. Ben Ford and Dr. Bill Chadwick are overseeing 17 IUP students for six weeks while they dig, map and explore Newport Village, which existed from 1790 through 1820 along the banks of the Conemaugh River on the border of Westmoreland and Indiana counties.
Historians knew the village had been settled by Europeans in the late 18th century. What IUP students and their professors didn't anticipate was finding artifacts showing humans on the Newport site as much as 8,000 years ago.
Tiny pieces of stone debris and waste are left behind by humans when they make stone tools, like a knife or an arrowhead, Ford, a professor in the Department of Anthropology said.
The students are finding stone flakes "all over the site," Ford said.
"That means that people have been using what we think of as Newport Village for much, much longer than we have in the written documents," Ford said. "People were likely there hundreds or thousands of years ago before the village of Newport.
"It does bring up the argument that everything old is new again. When the Europeans plopped down, they probably thought they were the first people there," he said.
"In fact, finding the stone flakes confirm that people had been there a long time before, probably for the same reasons the Europeans picked there. It wasn't a bad place to get to the river (Conemaugh), there's the Black Lick nearby, there were some springs. People tend to pick the same landscapes. We just think we are the first ones to do it."
If Ford's students can unearth a stone projectile, they can study the shape of the tool to narrow down a specific time period from which it was produced. The artifacts can also be dated through radiocarbon dating, but that can be a costly process.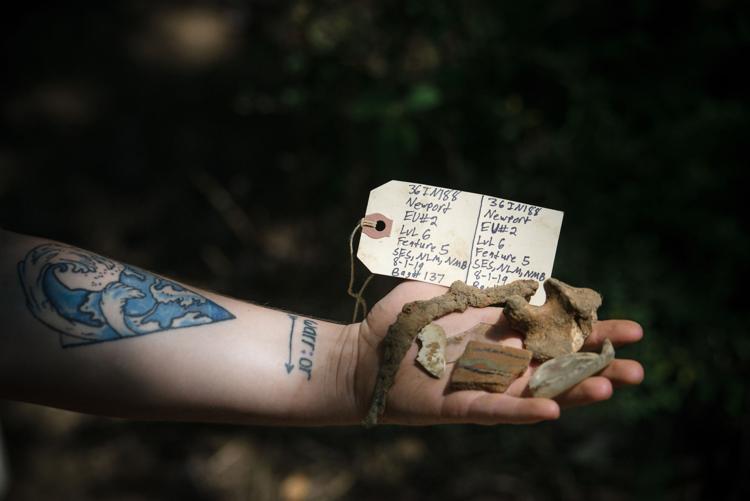 Recently, Richard Michael, a 1976 anthropology and history graduate of IUP, donated $25,000 to the IUP Archaeological Services Support Fund, which can be used for a number of initiatives to support the archaeological work being done by IUP.
Michael, originally from Bells Landing, Clearfield County, lived for many years in Indiana, and was the former vice president of the Indiana County Chamber of Commerce. He now makes his home in Florida.
"We really appreciate Mr. Michael's support for the program," Ford said. "It will help us to enhance the opportunities we offer to our students, and it's so gratifying to see alumni of our program giving back. We were also really happy to have him visit the site so he could see, first hand, the work that our students are doing."
Beyond stone flakes, students at the site have found redware and pearlware artifacts, a corner of a building, square nails, a portion of road and an intersection. This is the first year Ford and his students have been on the site, "which makes it perfect for training budding archaeologists," he said.
Because the site has a range of artifacts that span centuries, it is especially valuable as an educational experience.
"Having features they can dig is an important part of training our students," Ford said. "Doing the test pits and the bigger excavation units allows us to cover a full range of skills. The fact that they're finding and identifying different types of materials, seeing features and how humans have changed the landscape, and learning how to read what that means, it's all skills we want to teach."
The excavation site is on a small hillside where Black Lick Creek meets the Conemaugh River. Remnants of the 1800s village are adjacent to a cornfield, covered in trees and brush. The Army Corps of Engineers owns the land, which is leased to the Pennsylvania Game Commission.
Additional IUP students will study the artifacts from the dig throughout the academic year, working to develop conclusions about the time people spent in Newport Village.
Ford spent the last eight years researching and documenting Historic Hanna's Town, a Pennsylvania frontier settlement in Westmoreland County. While investigating opportunities for new field schools, Ford became aware of the site through a contact at PennDOT, and went through the process of obtaining the proper permits. (Excavating on federal lands without a permit is illegal.)
Ford believes that Newport Village, settled a decade after Hanna's Town, is relevant because of its role as a river town. "Newport was most likely established as a development in the expansion on the inland waterways as a spot for traders and travelers because of its easy access to the Conemaugh."
Before roads, when water was the preferred method of moving goods, Newport could link merchants to the Mississippi and the Chesapeake Bay, he said.
Within a year, Ford expects his students to better understand the development of trade network patterns by comparing artifacts found at Hanna's Town to Newport Village, discover what people were buying and trading, and better understand the reasons why Newport was abandoned.