Coronavirus has been responsible for striking down most facets to human culture the world over.
Personal relationships, lax hygienic practices, classroom education, sports and entertainment as mass market products.
Coaxed into indoor solitude, distant from strangers, friends and even relatives, mankind's affinity for human touch has been squelched by the recommendations for personal distancing, incessant hand washing and sanitation and the electronic, digital delivery of mental stimuli.
A last bastion of life entrenched in America, law enforcement agencies, while compliant as possible with personal safety precautions, remain the ever-present symbol of protection and peace in communities.
Changes in the world of policing, for the state troopers across Pennsylvania, for the municipal officers throughout Indiana County, bear out the population's move from streets to sofas.
Their experiences show it; their statistics prove it.
Traffic tickets handed out by state troopers between March 23 and April 6, a two-week sample at the height of stay-at-home orders and non-essential business shutdowns mandated by Gov. Tom Wolf, are but a shadow of normal. Just 2,875 citations and 1,254 warnings over those weeks, compared to 22,216 tickets and 10,429 for the same days one year ago.
And criminal offense rates are down from the month before. Reports of offenses fell from 96 between Feb. 29 and March 13, to 49 between March 14 and 27 — a 49 percent decline.
Property crimes fell 29 percent.
Traffic accidents were down 44 percent.
Drunken driving arrests by troopers at the Indiana station were steady from the first half to the second half of March, at seven arrests in each two-week period. The flat rate diverges from the statewide figures from areas patrolled by state police, where DUI arrests fell 58 percent (reports of crimes dropped 65 percent, property crimes fell 65 percent, accidents were down 53 percent — also greater decreases than in the Indiana station's service area).
Of note, reports of domestic disputes rose from 20 in early March to just 21 in the last half of the month — despite the shift to a culture, through business closings, layoffs and stay-at-home orders, where significant others suddenly have increased the amount of time spent in one another's company at home each day.
"Crimes in general such as theft, assaults and DUIs certainly appear to have decreased," Trooper Cliff Greenfield told the Gazette. "I have heard from our patrol unit that incidents of domestic violence remain near average levels, but this is especially something we are greatly concerned about.
"We know that families are dealing with levels of stress that perhaps they have never faced before. We ask anyone dealing with the issue of domestic violence to please seek help right away. We don't want people waiting to seek help until it's too late."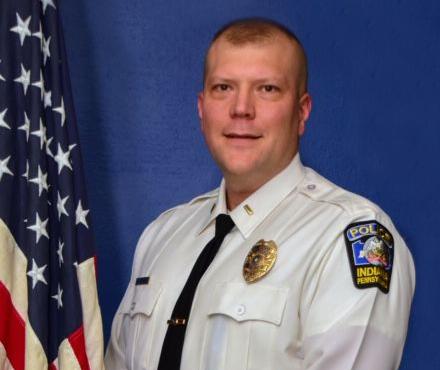 Indiana Borough Police Chief Justin Schawl echoed that observation.
"We're not seeing increases in incidents of domestic violence that are discernible," he said. "But we have experienced some acts of violence with those domestic incidents that are escalating. So we are being very prudent in our responses for community safety and for officer safety.
"We recognize that this is a stressful time for everyone and that sometimes close quarters breed contempt. We're just asking for everyone to remain calm; call us if they need us, and use us as a resource to alleviate stress as opposed to us responding to incidents where stress is affecting a household dynamic.
"We're certainly going to deploy our efforts to try and promote peace, safety and comfort as opposed to responding to incidents that are otherwise."
Greenfield cited a track record of "countless tragic and heartbreaking incidents of domestic violence over the past few years (in Indiana County) and we want anyone in a potentially violent situation to seek help right away," he said.
He encouraged residents to rely on the Alice Paul House, the domestic crisis center, at (724) 349-4444, and the Crisis 24/78 Hotline at (877) 333-2470 for mental health services.
Greenfield offered the police department's appreciation for area residents minding the advice from Harrisburg.
"We are grateful to our community for their ongoing commitment to follow the guidance and directives of Gov. (Tom) Wolf and Secretary of Health Dr. (Rachel) Levine. We understand the sacrifices everyone is making and that is not easy. One result of this is that, in general, crime and crashes are down. This allows our patrol troopers to devote a considerable portion of their shift not to report writing but to stopping and checking on grocery stores, shopping centers, Indiana Regional Medical Center facilities, houses of worship, schools and critical infrastructure sites.
"We are also doing our best to maintain high visibility at closed businesses and schools to deter burglaries and vandalism. Collectively, we call these domestic security checks, each of which is logged and tracked."
Domestic security checks literally numbered in the thousands in March. It's the activity that pushed the Indiana station's logged "calls for service" total to 5,328 for the month, a number that usually averages in the low 1,000s.
At the population center of Indiana County, the closing of Indiana University of Pennsylvania and the exodus of thousands of students from the Indiana Borough area back to their hometowns has left Indiana Borough Police with a dearth of what normally are college-related calls.
"University Related Activities," according to a heading on the department's monthly statistical report for March, fell from 144 last year to 69 this year, a 52 percent drop.
Borough officers were called once in March to assist the IUP campus police. They answered seven such requests in March 2019.
"Our community is very much adhering to social distancing and the police department is very appreciative of that," Schawl said. "We have tremendous business partners who obviously have been impacted but are adhering to the non-essential business closures in this moment. The businesses that are able to be open are certainly respectful of the borough's imposed gathering limit on public spaces. So it's a very trying time that we're all navigating together.
"I'm very pleased with the community response to everything that is going on, and the police department is always able and willing to assist."
A year ago, police issued five citations for local ordinance violations for noise, public urination, open containers and disorderly gatherings. They wrote none last month.
Criminal charges (felony and misdemeanor offenses) fell from 21 in March 2019 to 12 this year. Summary citations (underage drinking, public drunkenness, disorderly conduct and harassment, for example) fell from 67 to just 11 in March 2020 — an 84 percent drop.
Traffic enforcement, including warnings and citations, fell 55 percent from 260 to 117.
Even parking tickets are down, from 157 a year ago to 103 in March.
"The police department is functioning as normal and we are available for everyone and every need. I wouldn't say that we are handling a lesser or greater call volume. We're just navigating a different scenario, a situation where business security checks are being handled as priority because we have a lot of downtown businesses that are unable to open," Schawl said. "We want to protect against mischief and theft and burglary. This opportunity for social distancing is allowing us to engage in a way that we may not have had the opportunity to do otherwise."
What has spiked for the borough, evident in the one-month change from February to March, are the numbers of visits to schools and churches to assure security. They totaled 245 in February and rose 8 percent to 266 in March.
But combined with the number of the same kind of visits to closed businesses — not a category in the monthly borough police activity report — the total number of security checks from midnight March 30 through 11:59 p.m. April 5 amounted to 257 of the 308 incidents identified on a selective list of blotter items logged by the borough cops.
"In an abundance of caution for the community, we're trying diligently and strategically to interact with our community in respectful and responsible ways for the health crisis that is COVID-19. So in line with our other partners in the state and nationally, we're trying to be good stewards of community health," Schawl said. "So you're likely to see, and residents will see the borough police department being flexible in the best interests of health and safety.
So it's reasonable that you would see less proactive police-citizen engagement and that is out of respect for this environment. We are navigating differently. We have to; it's prudent that for the safety of our vulnerable community members, that we do so differently than we did pre-COVID-19."
Schawl especially underscored the borough police department's role as a community resource as a helper of all kinds.
"We're all navigating this moment in time together, and our best and most strategic opportunity for community success is to support each other and to be available," he said. "We don't want anyone to feel alone at this moment. We're available on the phone, we're available to arrive in person, and we're available on social media. Everyone will always have access to a police officer and we pride ourselves on that ability to serve. So regardless of whether it may look different … today than it did yesterday, we are geared toward Indiana Borough's success, and peace, safety and comfort are our focus."