A woman who survived — and thrived — after a traumatic accident nearly two decades ago on the Indiana University of Pennsylvania campus has been honored by a textbook publisher for her achievements in the field of business education.
McGraw-Hill Education gave the John Robert Gregg Award to Dr. K. Virginia Hemby, 58, a professor in the marketing department of Middle Tennessee State University's Jones College of Business, at the annual National Business Education Association convention last month in Baltimore.
The award is named for the inventor of a system of shorthand writing used in many venues since its creation in 1888.
It is given annually to an individual recognized by colleagues and education professionals for outstanding contributions to the advancement of business education, which Hemby called "the original platform from which every other business major sprang." Hemby said she has specialized in business education for more than 25 years, "pushing for more classes and getting more people into teaching business education."
She has authored four books, 10 book chapters and more than 30 articles in peer-reviewed academic journals. Her recent work covered bullying in higher education and age discrimination relating to graduation dates and veterans' service in online employment applications.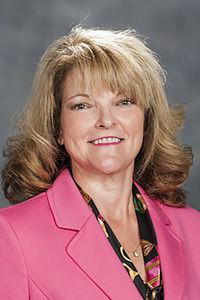 NBEA hailed Hemby for her creation six years ago and oversight since of Raiders' Closet, a nonprofit that provides free professional attire for MTSU students seeking post-graduation employment.
"We have a lot of people here who cannot afford to buy a suit for a job interview," Hemby said.
The nonprofit also provides appropriate attire to students in local high school business groups to ensure a professional appearance in competitive events.
Hemby joined the IUP faculty in August 1995 and taught business communications and telecommunications there.
On Dec. 1, 1999, at about 8 a.m., she was struck by a pickup truck pulling out of the Shafer Hall parking lot as she crossed Pratt Drive near the Eberly College of Business building. Campus police said the bright sun and frost on the windshield may have played a role in that accident.
Hemby suffered a skull fracture and was taken to Indiana Hospital, now Indiana Regional Medical Center. She then was transferred by medical helicopter to the trauma unit at Allegheny General Hospital in Pittsburgh.
"The fact that I even lived is a miracle," Hemby recalled. "According to my neurologist, I'm a 3 percenter. Ninety-seven percent of the people suffering from the same injury usually die. And I'm a 1 percenter because I was able to return to work and be a productive citizen."
It was not without such difficulties as losing the ability to smell and lacking short-term memory, but, Hemby said, "I wasn't content to sit on the sidelines and try to just exist, so I went back to work and did everything I could."
The struggle included having to cross the same street where the accident happened. In 2004, Hemby moved on to Middle Tennessee State in Murfreesboro, in the heart of the Volunteer State.
"It has been an adventure," she said. "The thing that kept me going was getting back into the workplace, relearning. The move here was very scary. I had tenure at IUP. Coming here without tenure was very scary. I second-guessed myself on many occasions."
She did not get tenure on her first try at MTSU, "so I had to go up again. I was absolutely petrified that I was not going to get tenure," but she earned it on the second try.
Hemby's path through adversity may have been bolstered by what she did prior to that adversity.
"As a young child to a single mother, I never truly understood the amount of work my mom put into 'keeping us afloat,'" said Hemby's son, Matt Jackson. "As I grew older, I began to appreciate just how amazing it was for her to work three jobs and attend school full-time, earning her three college degrees in seven years, all while raising me."
Jackson was 15 when his mother had her accident.
"They say you never appreciate your parents until you're older, but no one really clarifies what is meant by 'older,'" said Jackson, who today is general manager of Gazette Printers, commercial printing division of Indiana Printing & Publishing, publisher of The Indiana Gazette. "Thankfully, I  was able to recognize her accomplishments sooner than most, I suspect, (although indeed older than the 5-to-11 year-old self I was at the time) and understand the sacrifices she made for us, as well as what she was able to achieve."
Jackson is a 2002 graduate of Indiana Area High School who then went to his mother's alma mater, the University of Southern Mississippi, where he earned a bachelor's degree in sports administration with minors in criminal justice and business administration in 2006 and a master's degree in event and venue security management in 2007.
He then worked in Nashville until 2015 when he moved back to Indiana.
"This award is indeed not a confirmation to me of who she is or what she's done, rather it's a reaffirmation of something that I've know all along — that she will never give up, and will always find a way to succeed.," Jackson said.
Hemby has earned other distinctions as well, serving as national president of the Association for Research in Business Education, co-chair of the international conference of the Association for Business Communication and a two-term member of the Policies Commission for Business and Economic Education.
She also is a member of the advisory council of the state of Tennessee's Division of College, Career and Technical Education, Hospitality and Tourism.
Last year, Hemby received one of Middle Tennessee State's highest faculty honors, the MTSU Foundation's Public Service Award, also for her work with Raiders' Closet.
---
Editor's note: This story was updated at 5:15 p.m. Wednesday to correct the age of Dr. K. Virginia Hemby's son, Matt Jackson, at the time of her injury.