Just say the word and the smile dances immediately across your face:
For almost 100 years it's been that way across America and now it's embracing the entire world.
When the Harlem Globetrotters, the Clown Princes of Basketball, are coming your way, as they are at 7 p.m. Tuesday in their return to Indiana's Kovalchick Convention and Athletic Complex, you just have to give that smile up as if it were a 3-point shot of joy.
"In our 94 years, our mission to spread smiles around the world has never changed. At each and every game, we pride ourselves on creating a world-class experience for our fans," says team member Zeus McClurkin, who not only possesses Guinness World Record skills on the court, but also a game-winning grin.
Through all of the changes in players over the years (about 750 men and women have played for the world-famous team), that is the constant that keeps the Globetrotters the Globetrotters, the Columbus, Ohio, native suggests.
There is a reason the organization has become not only an American, but a worldwide, institution, he adds.
"More than just basketball, our players and staff are genuinely ambassadors of goodwill who love making a difference on and off the court. People see and can appreciate our efforts," McClurkin explains.
In being a member of the Globetrotters' organization, whether as a player, coach, staff or management, there is a sense of being a link in the chain of tradition, and helping carry on that tradition.
"Everyone who is a part of the Harlem Globetrotters organization is linked by the common thread of being great people. Everyone puts forth their best efforts to ensure our fans have a great experience," he says.
He is one of the most decorated athletes on the Globetrotters roster, holding three Guinness World Records titles: setting the mark for most basketball slam dunks in one minute, with 16 (2017), most bounced three-pointers in one minute, with five (2017), and most behind-the-back 3-pointers in one minute, with three baskets made (2018). McClurkin is known for his fun personality and trick shots from places like Ohio State and the Mall of America, which have been featured on ESPN.
When he enrolled at North Carolina A&T State University, he made the basketball team as a walk-on, beating out 30 other hopefuls in the process.
His exercise-induced asthma, a narrowing of the airways in the lungs triggered by strenuous exercise, has not deterred his achievements. He carries an inhaler with him and forges ahead.
McClurkin says he fell in love with basketball because of his brother's passion for the sport. "I wanted to be just like him, and to this day I still can't beat him one-on-one," he admits.
Growing up, he pursued many sports, including the swim team, football, tennis, baseball and soccer. He also played volleyball and says he would have loved to have played professional beach volleyball and represent the U.S. in the Olympics.
"Be coachable. Be the player that the coach never has to worry about and can depend on when called upon," he advises young athletes. "I have played a lot of minutes over players that were more talented than me, simply because I was coachable and understood what the strategy and philosophy was for each team on which I played."
McClurkin has been a great fit for the Globetrotters, a team that has entertained more than 148 million fans in 124 countries and territories worldwide, introducing many to the sport of basketball.
"The Harlem Globetrotters are all about creating memories that are worth repeating and spreading joy across the world using something everyone loves — basketball," he says.
The age of the fan base is "1 to 100," he adds. Given the rich history, the fan base is multi-generational.
"We have grandparents who grew up in the '70s with Curly Neal, now taking their great-grandchildren to our games to see Big Easy. It's pretty amazing to see!" McClurkin says.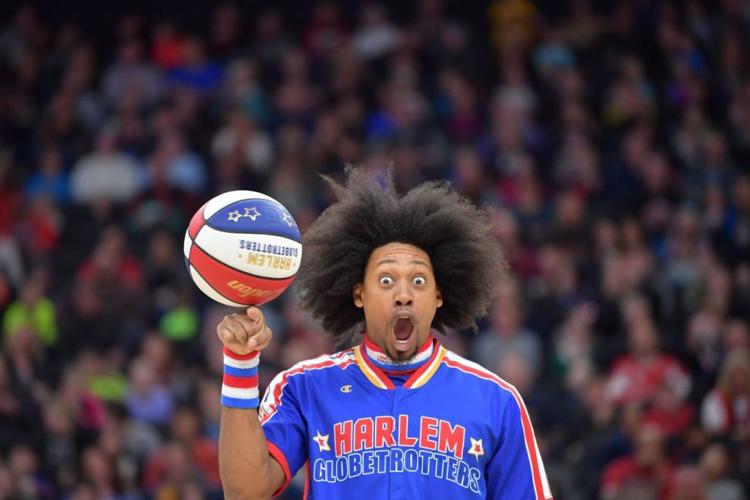 He raves about this year's "Pushing the Limits" tour.
"It is incredible. We've added international ballhandlers from China, Poland and the Ukraine, a 'fifth quarter' element that allows our fans to interact with the players up-close and personal, and a world record attempt to every game," he explains. "If you're a first-timer at our show, come prepared to be part of the show. You never know if you'll get a bucket of water thrown on you or have a dance battle with one of our players."
It has been said that it is not even necessary to be a basketball fan to enjoy the Globetrotters.
"Our show is the combination of basketball and entertainment," McClurkin said, "with the universal language of laughter woven into the mix. Who doesn't like a good time and laughter? It has brought families and communities closer together."
He believes the Harlem Globetrotters have and will continue to impact generations of people across many cultures.
"Basketball is definitely a universal language and we use that to connect with people around the world," McClurkin says.
In 2019, the Globetrotters visited their 124th country, Uzbekistan, with its partnership with the U.S. State Department.
"We had a chance to experience their culture and traditions, as they did ours," McClurkin says. "It was an amazing experience, and it all came together through basketball."