In a way, it was a perfect storm of factors that led to the near suspension of the Meals on Wheels program in the Indiana area:
A client list of about 40 awaiting delivery of hot lunchtime meals, all residents over 60 — the age group most vulnerable to the potentially fatal COVID-19 virus.
A cadre of volunteer delivery drivers, also mainly senior citizens — taking to the roads when federal health officials and governors have especially warned the elderly to have no contact with each other.
Relatives of the drivers — many begging the volunteers to follow the coronavirus pandemic protocol to just stay home.
Learning of the resignations of the volunteers and the program manager's decision to cancel home meal deliveries after last Friday's service, a hastily recruited team of younger drivers stepped forward to pick up the service this past Monday.
Jen Rairigh, of White Township, has propped up the flagging service. In recent weeks, she has coordinated a social media clearinghouse of real and virtual food pantry efforts to make sure people don't go hungry during the pandemic-related economic crisis. (See Food 911 Indiana County on Facebook.) She said she couldn't just stand by and watch.
"They had a lot of senior drivers, and their families were saying they should not be out and about, and they should stay home," Rairigh explained. "One by one they were canceling and it was becoming difficult to manage the program with reliable drivers and cooks.
"Thursday morning a friend of mine called and said 'are you aware that Meals on Wheels is shutting down?' I hadn't heard anything about it."
Rairigh said the seniors are still getting their meals thanks to an impromptu partnership that has resulted in an injection of cash to add more needy seniors to the lunch service.
"It was about noon Thursday and I pulled together a call with Aging Services, ICCAP, the Chevy Chase Community Center and the United Way. I'm thinking that we need to do something very quickly and have funding behind us," Rairigh said. "I got those organizations together with me on a call at 9 the next morning, with a plan in mind to put together a new process."
What materialized was a 90-minute rush to write out the plan, print out copies and insert them before 10:30 a.m. with the last planned Meals on Wheels lunch boxes leaving the kitchen of the American Legion post in Indiana.
On the heels of being told the service would end, "this brochure let the seniors know so they didn't have to go the weekend worrying about what they were going to do for food this week," she said. "We made that happen."
Rairigh, the business manager at Rairigh-Bence Funeral Homes in Indiana and Clymer, said each of the organizations brought their strengths to the table to make the meal service survive.
"The unique vantage point I have, not being on any of their boards or affiliated with their organizations, was the view from 10,000 feet," Rairigh said. It's about recognizing strengths and recognizing gaps that could be filled.
"Every organization is fulfilling its mission," she said. "One of the things this emergency made clear is how everybody is doing their job, doing it well according to their own mission, but there's not a lot of interaction between the groups."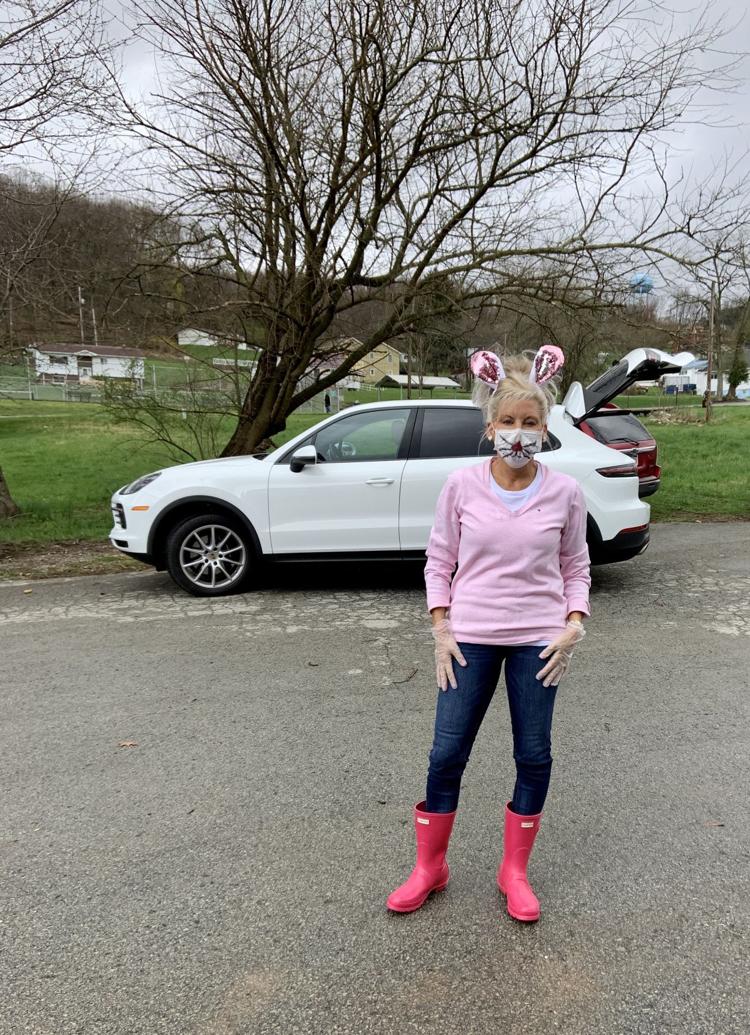 Aging Services has the inventory of seniors and program funds. ICCAP, through its food bank suppliers, provided a half-gallon of milk with the lunch deliveries on Monday. United Way will stand as the financial manager. And the Chevy Chase center, and its kitchen, has become the interim base of operations.
On principle, Meals on Wheels serves seniors over 60 with hot meals for $5 a day. No income level qualification is needed. It serves those in Indiana and White Township, and those within five miles of Homer City.
"However, during this emergency, we can get funding from Aging Services to cover meals for seniors who are unable to pay $25 a week," Rairigh said. "We know there are more than 40 individuals in that area that might benefit from receiving those daily hot meals, so I do think it can grow. And because the over-60 population in general is discouraged from going to the grocery store, there might be people who would choose to do this because of the nature of the pandemic."
For 39 years, Meals on Wheels has met unstated goals. Contact with delivery drivers may be the only human touch for shut-ins receiving the service.
"Yesterday, somebody fell," Rairigh said. A 100-year-old client.
"This reinforces why you need to keep continuity of service to seniors. Our driver arrived at the senior's home and found out he had fallen. The ambulance came, the home nurse came.
"So for all my drivers, I sent out a note saying this is so important, what we're doing. We have to make sure we continue this."
Rairigh said her only past awareness of the program was as an 8-year-old in 1977, when she accompanied her mother on deliveries to seniors following the Johnstown Flood.
Volunteers who want to join the program, those who can donate food for the lunches, and anyone who wants to sign up for or has questions about the senior lunch delivery program should email Rairigh at jenrairigh@gmail.com.
Just filling the gaps now is her priority.
"We expect to hand it back (to the regular Meals on Wheels organization)," Rairigh said. "Who knows what the future is going to bring or how long this is going to last. We just wanted to make sure there are no issues with continuity of service until such a time that Meals on Wheels is ready to pick this up again."