Once Upon a Time in a Dark and Scary Book …
You will read about a genre of children's literature you might never have thought about, unless perhaps you've watched a youngster playing a video game.
"In a video game, you have a child who is playing usually the good guy," said author K. Shryock Hood, of Indiana. "They lose and they lose and they lose until they learn how to win."
However, that last goal isn't achieved in the books Hood researched for "Once Upon a Time in a Dark and Scary Book, The Messages of Horror Literature for Children," published this summer by McFarland & Company Inc. of Jefferson, N.C.
It's an examination of contemporary American horror literature for children and young adults, where the child doesn't win.
"I give a history of these kinds of stories," Hood said, "and I give an analysis of the modern version of these stories."
She isn't talking about the wizardry J.K. Rowling gave us in the tales of Harry Potter, who ultimately triumphed over Voldemort.
"If you look at a book for children where a child fights a monster and a child wins, it might be scary, but it's not horror," Hood said.
Rather, it is an examination of a world that is unsafe, as she detailed in her preface:
"When my neighbor's daughter was six she visited a Safety Bear safety fair, where she was photographed and fingerprinted. I asked her why she had been fingerprinted, and she explained, 'So when I get kidnapped and killed, they can tell which dead body is mine."
Hood said that clearly wasn't the message intended by her parents or Safety Bear.
"But while researching a project on Little Red Riding Hood," Hood continued, "I found the same message in modern versions of that old tale. No one kills the Big Bad Wolf. No one deliberately rescues Little Red."
Likewise for modern rewrites of the tale of Three Little Pigs, or "The Eek! Stories to Make You Shriek" series written in 1992 by Jane O'Connor with illustrations by Brian Karas.
As inferred on amazon.com, "Who is in the monster costume? Is there something strange about Sara's new doll? Where did that shaggy dog come from? This Level 3 reader has three spooky stories that will make you laugh — and shriek!"
Level 3 readers, as described by Random House for its Penguin Young Reader series, "are perfect for the transitional reader who can read multisyllable and compound words, can read prefixes and suffixes, can identify story elements, and understands different points of view."
In other words, probably beyond the third grade in school — into an age range that is covered by … Freddy Krueger?
"The character of Freddy and the story of 'A Nightmare on Elm Street' are available today in comic-book format, in graphic-novel format, on DVD and videotape, in a novelization for nine-to-12-year-old readers, in video and computer games, as a board game and a talking doll, on tee shirts, hats, calendars, cereal bowls, and lunch boxes," Hood wrote in the introduction to her book.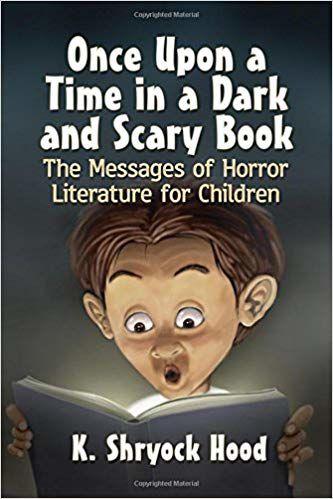 There she also equates the hideous Krueger with the protagonist in a 1957 book — "The Cat in the Hat" by Dr. Seuss. She found a "remarkable similarity" between Krueger and the Cat.
"Both feature home invasion scenarios," she wrote. "Freddy and the Cat both appear to children in their homes when their parents are absent or otherwise unavailable."
After that introduction Hood focuses on such authors as Robert Lawrence Stine, best known as R.L. Stine, author of such works as the Goosebumps series of children's horror fiction novels.
She admits she's only read about 100 of Stine's books — he's done 75 alone in three Goosebumps categories, plus more than 100 just in various iterations of Fear Street.
"If you kill the monster you can't write the sequel," Hood said. "If you have a monster who lives through 100 books, what is the message? It is that you can't kill the evil, you can't solve the problem."
And she said there is "a whole slew of writers" who do what Stine does.
There's Darren O'Shaughnessy, aka Darren Shan, who wrote the "Cirque du Freak" series; Kevin Christopher McFadden, aka Christopher Pike, who wrote the "Spooksville" series as well as "The Last Vampire" saga; and Jerry B. Jenkins, Chris Fabry and the late Rev. Tim LaHaye, certainly known for their "Left Behind" series for adults, but also for 40 short novels under the title "Left Behind: The Kids."
One can't find the book on local store shelves, but can get it through amazon.com or McFarland's website.
"I think it is readable by the general public," Hood said. "I think anyone who has children might find it interesting just in terms of what their children are reading."
Hood has a sequel in mind.
"I'm hoping to write another book focusing entirely on R.L. Stine and all of his works," she said.
By the way, Hood, too, has an aka, Dr. Katherine or Kitty Hood, with a doctorate in English literature from Indiana University of Pennsylvania, whose husband, Michael Hood, retired at the end of June after 20 years as dean of IUP's College of Fine Arts.
"He's talked to people all the time telling people about the book," she said. "He's a great publicist."
The couple has two children. Hood also is in her second term as a First Ward member of Indiana Borough Council and chairs council's Administration Committee — and admits "no one else has told me they've read it" at the borough building.