Like other hospitals across the country, Indiana Regional Medical Center is weathering the COVID-19 challenge.
"The pandemic has affected or changed almost everything that we do, in some manner or another," said Dr. Bruce Bush, IRMC's chief medical officer. "We're still doing all the same surgery we did before, we're taking care of all the same diseases and illnesses we did before, but we've had to take modifications in how we're doing that."
While the White Township medical facility seeks to work through the financial losses that were amassed over the past six months, IRMC CEO Steve Wolfe said, "We are committed to maintaining Indiana Regional Medical Center as an independent community hospital."
It isn't easy. Wolfe noted how "hospital margins are really thin on normal days."
After a "very big drop in patient activity" with the shutdown in March and April, Wolfe said such activity has been 90 percent of what it was before COVID-19, with surgical activity over 100 percent of what it was before the pandemic set in.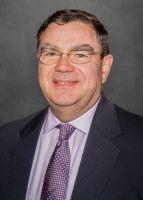 "Some days are better than others," he said.
There has been what hospital officials termed "meaningful" assistance from state and federal officials, including U.S. Sens. Pat Toomey and Bob Casey, state Sen. Joe Pittman and Rep. Jim Struzzi, and the Gov. Tom Wolf administration.
"It fell short of what the financial impact of COVID was by millions, but it certainly was very helpful," Wolfe said. "Where COVID's financial impact could have taken a lot of hospitals down, Indiana Regional has been challenged."
On the other hand, IRMC has been overwhelmed by community support.
"There was so much unknown," Wolfe recalled. "People were highly concerned," including "physicians whom I know and respect."
Over the past six months, however, the IRMC CEO said, "the community support has been a huge boost," recalling "really heartfelt" gestures ranging from "a parade for all fire and police to people delivering personal protective equipment, making face shields and knitting masks, to food being provided to employees."
There also was an appeal from the Indiana Healthcare Foundation.
"Heather Reed (the foundation's executive director) coordinated that and we received a very generous response from the community," Wolfe said.
"People need to seek care," Wolfe said. "There were some really bad stories of what happened when people didn't seek care."
Those who need IRMC services will be screened, following Centers for Disease Control and state Department of Health guidelines.
It begins under the pavilion at the main entrance to the hospital.
"Our goals are to keep our patients safe and to keep our staff safe so we can continue to provide care to everybody," said Mark Richards, IRMC's chief growth officer. "To keep people with active COVID out of the hospital unless they need our care. There is a pretty broad gap in the level of understanding from one person to another out there in the community about the nature of COVID and the importance of mitigation strategies and the effectiveness of them."
Screening includes testing if necessary. However, Bush said, there was a lot of difficulty early in the pandemic with getting COVID tests done and returned in a timely manner.
A partnership with Indiana University of Pennsylvania has helped. A program spearheaded by Dr. Narayanaswamy Bharathan, chairman of IUP's Department of Biology, has resulted in more than 4,500 completed tests, three new staff trained by Bharathan and a new testing procedure being piloted by Bharathan that significantly reduced testing time and costs, while maintaining testing accuracy.
"It made a huge difference," Bush said.
IRMC officials said there are still limits on visitation.
It's one visitor per patient per day in medical and surgical units, and they have to stay in the patient's room.
If a woman is coming in to give birth, she is allowed one visitor throughout her stay — with accommodations made if that stay goes overnight, per standards of the American College of Obstetricians and Gynecologists.
While exceptions can be made, for the most part the hospital is not allowing visitors into the pre-op area or the surgical waiting room.
The CDC also has standards for facial coverings.
"They talk about surgical-type masks with ties and loops," Bush said. "All of those meet acceptable standards. They recommend (masks with) two layers of cloth, and say three is better."
Wolfe said he participates in weekly meetings of the Indiana County COVID Task Force, which is coordinating an overall community response to COVID-19.
Richards applauded the leadership of the county board of commissioners in providing "a unified voice so people know what to believe" when reading about the virus.
"It really is an educational and informational base for all the residents of Indiana County," Richards said.
The COVID-19 crisis won't be over anytime soon. Bush predicted it will be around "well into next year." In the meantime, hospital officials want the public to be patient and vigilant. Bush said people should "wash their hands frequently, wear masks, maintain social distancing, be careful about social gatherings," and remember that "our biggest enemy right now is complacency."