Late May brings some certainties to Indiana.
The town goes quiet with the exodus of Indiana University of Pennsylvania students following final exams, and the area is awash in purple as rhododendrons blossom en masse.
Well, the campus went silent two months ago and the jury still seems to be out on the rhododendrons.
But like clockwork, Indiana traditionalists raise a toast on May 20 to mark the birthday of native film star Jimmy Stewart.
So heralded is Stewart's birthday that the museum honoring his life and times chose May 20 for its grand opening.
That was 25 years ago — May 20, 1995 — when the town's Stewart fans, from casual to diehard to back-in-the-day personal pals with the legendary actor, crowded Philadelphia Street outside the Indiana Community Center for the opening of what has become an iconic tourist destination in the region.
Stewart's daughters, Judy and Kelly, were given red carpet treatment. Stewart's childhood friend Bill Moorhead was feted for his long-ago tales of hanging around with the future film giant. Attorney Jay Rubin and water company manager Carson Greene celebrated the opening of the museum as a red-letter day in their lives as advocates of all things Stewart.
Through its first quarter century, the museum has outlasted many of its peer organizations across America. In the tribute-museum trade, there's a concession that generational changes in culture often mean fading appreciation for historic figures who shined at a specific point in time.
For example, the Johnny Cash Museum appears in shambles in 2002 in Cash's "Hurt" music video. And the man in black was still alive.
Now, 23 years after Stewart's passing, the museum honoring his home life in Indiana, his heroism in the military and his stardom in Hollywood sports new-look galleries of memorabilia.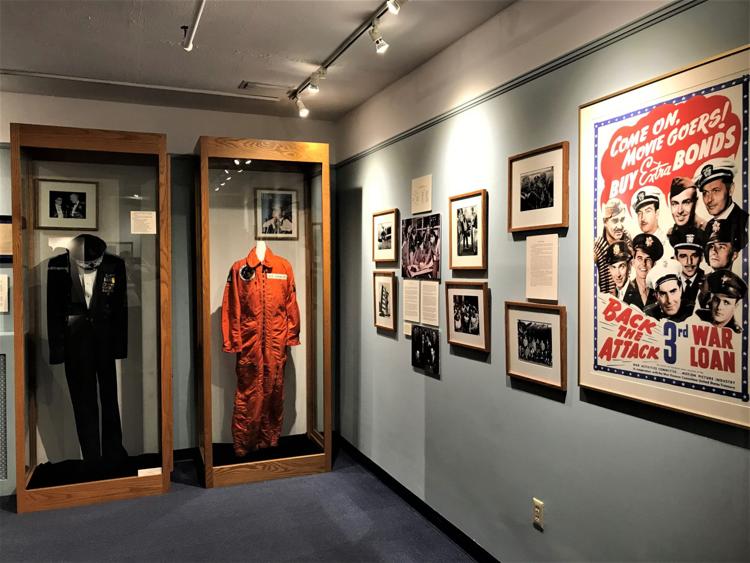 Museum directors and foundation board members through the years have ballyhooed it as a living tribute, one that has evolved with the passing months and years, even when it means repeating displays of relics that have been on exhibit in the past. The mission has been to assure repeat visitors of always seeing and learning something they didn't experience in the past.
But the only dust that's ever accumulated in the Jimmy Stewart Museum — by anyone's admission — is there now and not all of it may be wiped off today. The COVID-19 pandemic and virus prevention regulations have left the museum, categorized as a least-essential entertainment function, shuttered since mid-March.
Only Executive Director Janie McKirgan may be on site, but still there's a lot to do.
Without the turnstiles clicking the passage of museum visitors, McKirgan opened a virtual celebration of the Jimmy Stewart Museum's 25th anniversary with a series of videos on social media.
"We have at least 10, maybe 13 videos that we'll be posting on Facebook," McKirgan said prior to the anniversary. "They've been done by some famous people, some of our local dignitaries and other people. We have Jimmy Stewart's daughter and other celebrities."
Online visitors can see Rich Little, the legendary standup comic-impressionist known for his vintage impersonations of Stewart. It's Little's voice, after all, that gives downtown Indiana pedestrians their cues for crossing or not crossing at the busiest Philadelphia Street intersections.
Pittsburgh TV newscaster Mike Clark, who has grown as a Stewart aficionado on his reporting assignments to Indiana, offers a tribute. So do the area's delegates to the state capitol, Rep. Jim Struzzi and Sen. Joe Pittman.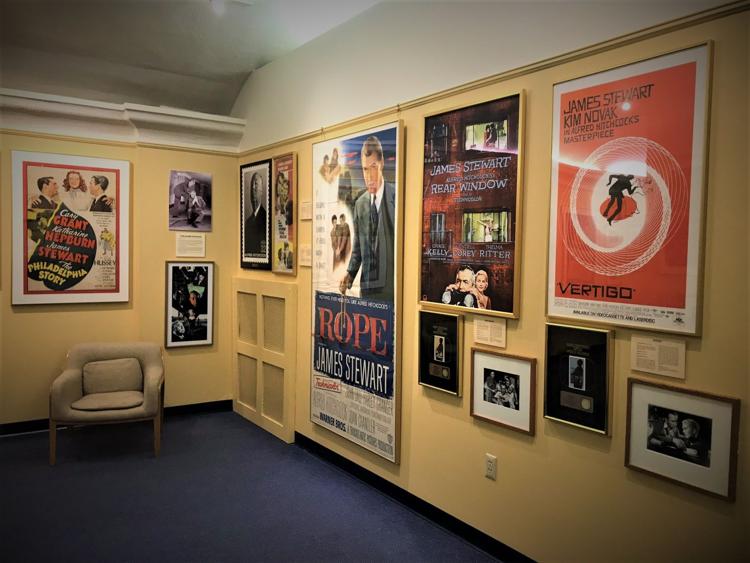 Online, fans can get a taste of the museum at its treasured web address, www.jimmy.org, an online manifestation of Jimmy Stewart Museum exhibits and a detailed filmography of his motion picture career.
Credit the coronavirus outbreak and its precautions for one thing: McKirgan has been afforded some of the needed solitude to oversee a redesign of the Jimmy website, set to be unveiled sometime in the next month, McKirgan said.
"It's going to look great. I'm excited about that!" McKirgan said.
When the doors open again, count on a fully-stocked gift shop, she said.
And along with that, the downtime has permitted curation of the new galleries ready for visitors to tour when Pennsylvania goes green.
"There's more to the Indiana gallery, we've redesigned the military gallery. It's separated into his love of aviation, and his time in the military," McKirgan said. "We have someone from the Air Force that is helping us to expand that exhibit and explain all his medals and why he got them. There's more to that now."
Ever see the room that's been redone to look like Stewart's office? There's new stuff there, too.
"We've highlighted a lot of things that were hidden. Back in his office, we've taken them out and given them a better place of honor," McKirgan said.
"The whole Hollywood gallery is reorganized. There's a whole Western hall."
Another hall features nothing but Stewart's awards, she said.
McKirgan said COVID-19 gave museum officials second thoughts about a technological advance. Some planned "touch-screen" exhibits will be done instead in ways that won't promote frequent touching.
A new hallway has Stewart family photos, and yet another focuses on his radio career.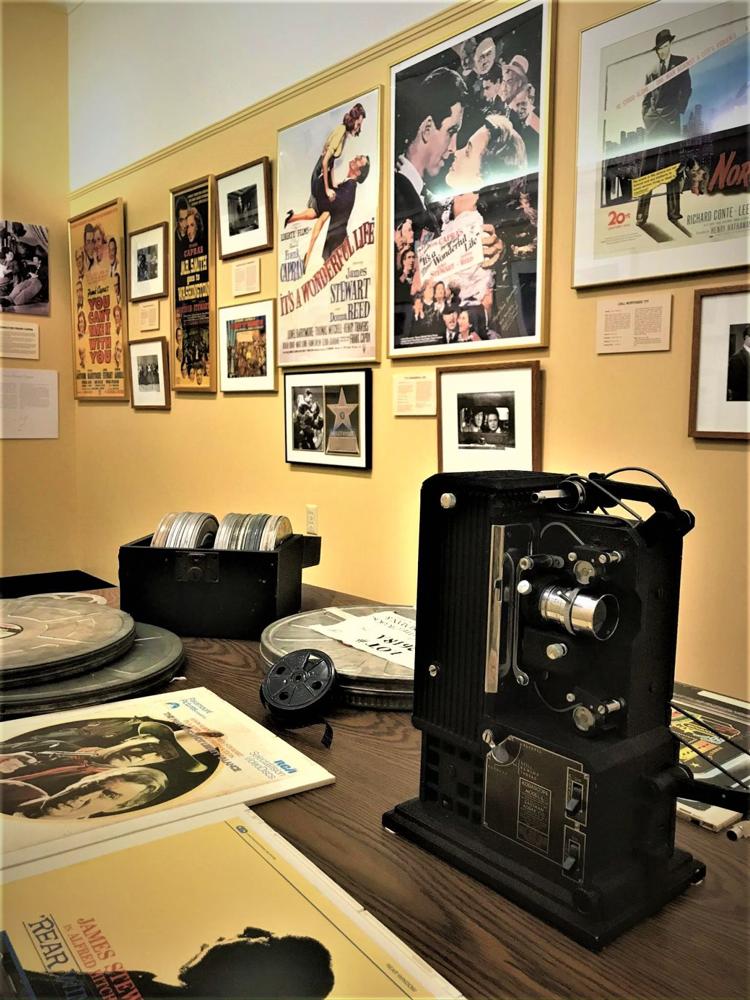 "So when we do open our doors, there's a lot to come and see. It's refreshed, it's updated, it won't be the same museum you saw before," she said.
Most of Stewart's 80 films will remain in rotation on the mini-theater schedule. Guests will be seated apart to abide by social distancing, McKirgan said. But they'll enjoy timely presentations — Stewart's four Alfred Hitchcock films in October, and "It's A Wonderful Life" from Thanksgiving through the end of December.
Statistics still bear out the vibrancy of the Jimmy Stewart Museum. Guests from every state except Hawaii signed the visitor log last year. More than 5,400 people came from across the U.S. and nine other nations (Australia, Canada, England, France, Germany, Hong Kong, Ireland, Scotland and Spain).
"When I took this over, I was shocked at how viable this is," McKirgan said. "We have young kids that have been raised on knowing Jimmy Stewart. The fact that he still resonates out there with people is heartening to me and a good thing for the town of Indiana since we bring people here to visit."
Also outside the museum, community events give a nod to the museum.
"Noble Stein (Brewery) has brewed a special pilsner called 'Hometown Hero' in honor of Jimmy Stewart," McKirgan said. "They will donate a portion of the proceeds from the sales 'Hometown Hero' to The Jimmy Stewart Museum."
Look for that ale beginning late next week.