• EDITOR'S NOTE: This is the last in a two-part series looking into operations at Citizens' Ambulance Service.
For weeks and weeks in late 2019 and early this year, Wuhan, China, was an unknown spot on the globe for most people.
It was a distant headline in the world news reports of a viral infection that confounded doctors and left weakened patients clinging to life or worse.
It was then that word of the coronavirus infection and the possibility of a global pandemic reached health care professionals and agencies around the world and across the United States. Top-level management at hospitals, health agencies and companies like Citizens' Ambulance Service began charting their plans — both for handling patients and protecting their staffers from being the next victims.
"Our safety committee developed different procedures and programs that we abide by," said Steven Cable, a paramedic based at Station 70 along West Pike in White Township.
"Randy Thomas, our director of operations, and B.J. (Pino, CEO) and other senior operation managers have been meeting daily and hold conference calls each week to stay up to date. We've had training refreshers with different protective equipment that we didn't use often but now use on a daily basis."
Thomas, who rose to management after service as a paramedic at Citizens,' said he has served on the Indiana County Pandemic Planning Committee for 15 years.
"I've been through the rewrites and it is integral to have people responsible for responding to calls in this committee," he said. "We have the working knowledge. COVID has made us go deeper into the playbook. We had to look more and more at the primary things that I consider daily.
"That is assuring that our personal protection equipment and policies are ready, and that our interaction with patients is 100 percent spot on."
Thomas said Citizens' paramedics, EMTs and supervisory personnel all conduct daily self-screenings when they arrive for their shifts, whether in the medic units on the road or in the offices at the ambulance stations.
The office provides thermometers for all to check their temperatures. They assess whether they have a cough or cold symptoms that could be the sign of more.
As test kits have been a scarce commodity, Citizens' is judicious in their use.
"EMS personnel are tested per CDC (Centers for Disease Control and Prevention) guidelines," Thomas said. "Testing occurs only if symptomatic, regardless of whether there has been an exposure. We do all we can to provide a level of protection to our first responders that exceeds the standards. The big issue with COVID is that it is far more of a moving target. What we're doing today in response to calls for COVID may not be what we're doing tomorrow.
"I'm in a war as a commander of a brigade of people who get sent into danger and you don't take that lightly," Thomas said. "They are the most important tool in this fight for the people out on the streets. I can't say enough about how they're stepping up. They're actively educating themselves to keep protected, and following our policies and protocols to do that. They understand it well.
"They need to protect themselves and their families so they can go out and take care of the 100,000 people in our service areas."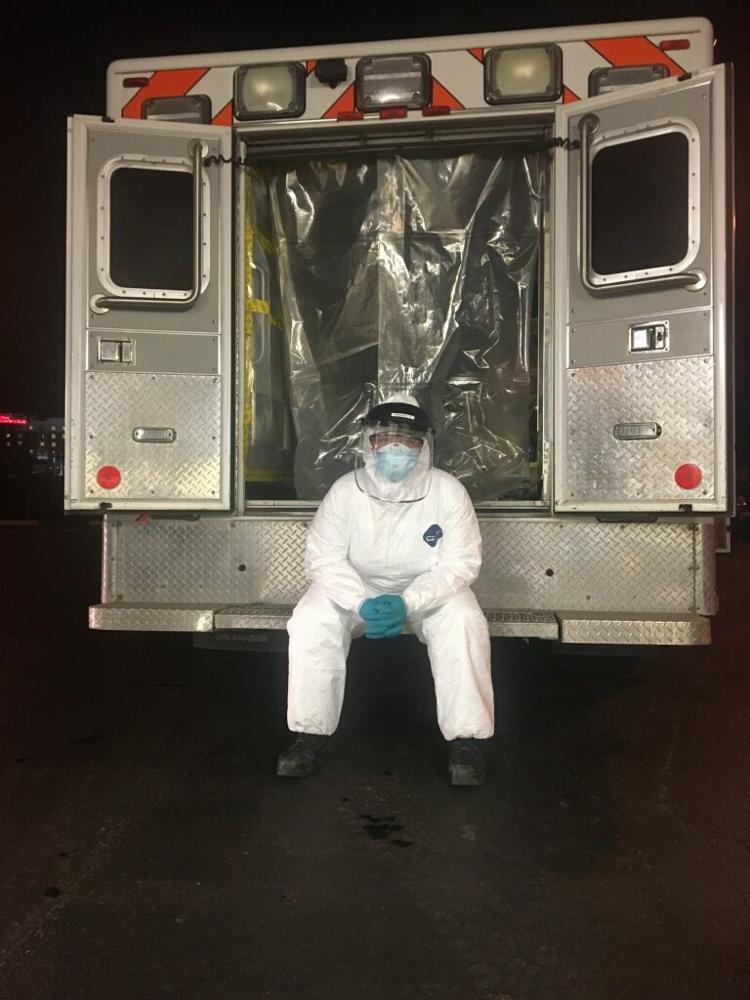 On the front lines in medical emergencies today, caution begins with the calls for help from a sick person's home.
Citizens' medical staffers say they rely on getting accurate information in an orderly way from one person who knows the patient.
"When we go to a house, there is a lot of chaos," said Harley Beal, of Shelocta, a paramedic for five years at Citizens' West Pike station. "People are afraid. They are worried about family members; there are a lot of them in the room. Everybody is talking.
"It would be better if the patient and one other person in the room are giving us information, and it would be better if people are forthcoming with information.
"Patients sometimes are terrified that we're going to the hospital and they will get bad news. But I think being forthcoming with information and maintaining a calm environment in the house helps," Beal said. "What makes our job a lot easier is when we can get information from a patient or caregiver without interruption or distraction."
The paramedics also rely on the 911 dispatchers to assess the possibility that a coronavirus-infected person may be in their hands.
"They are our first line of defense for the responders," said Dan Christy, a paramedic at Citizens'. "They screen the calls and make sure we are informed. It comes down to if the patient has any symptoms, such as difficulty breathing, a fever or a cough. Then there are a few different layers of where we go with our PPE."
Still, senior operations manager Mike Dunn, a paramedic at Citizens' for 26 years, said even basic protection is exercised on every call.
"What we consider our normal everyday responses in the community do not change. People are still having heart attacks and strokes; they're still having diabetic problems and overdoses. People still fall and get hurt. That has never gone away," he said. "But now you throw coronavirus into the mix and it creates several different challenges. So we treat every patient like they are infected with coronavirus: the one who falls, those in vehicle accidents. They aren't presenting with symptoms we would expect of someone with COVID, but nonetheless, we treat them initially in our assessment."
Once at the scene where they find their patient, paramedics and EMTs have to make an on-the-spot call whether to ramp up their own protection.
Paramedic Shawn Miller said a three-point screening tells the EMS team what to do. They call it "mask-and-ask."
"We check for a fever, we ask about a cough and until lately we've asked whether they have traveled to an area where there are known cases of coronavirus. Now we ask what contact they have had with other people recently," Miller said.
If the checklist adds up to a high risk of COVID infection, Miller said, the crews increase their own protection.
Christy said the usual two-person crew will split up in what they call a "single-rescuer" approach. One medic stays away from the patient's room, then remains isolated in the cab and drives the ambulance to the hospital, while the other suits up for contact and treats the patient.
"When we first approach the patient and start our screening, we hand the patient a face mask. If they feel they have a positive screening or a suspected infection, our crew can step back and don more PPE — more eye protection, face protection and a surgical gown," Christy said.
"If we have a known positive case, they don Tyvek suits — basically a jumpsuit with a zipper up the front — and gloves and an N95 respirator mask. Some chose to put on a surgical mask and safety glasses. We also wear face shields like you would see someone using for grinding material."
When all signs point to a suspected or actual diagnosed case of coronavirus, Citizens' arranges for transportation in one of two medic units that have been decked out in a layer of hazmat-grade plastic sheeting that shields nearly every inch of the interior of the ambulance from possible transfer of the virus.
Only the stretcher and bare essential treatment tools are left exposed; other needed medical supplies are stored in cabinets with doors that open from the exterior of the ambulance.
After the patient has been moved into the hospital, Citizens' crews spray down the entire plastic-lined interior of the ambulance with Vindicator, a hospital-grade disinfectant solution.
On the whole, Beal said, the level of care for suspected or diagnosed COVID patients is a sobering process.
"When we arrive at a hospital, they usually have a setup where we can take a COVID patient for quarantine and isolation from the rest of the emergency room. It's surreal," she said.
Although crews may encounter only one or two high-risk patients per day, their use of masks and face shields has become routine — "far more now that we thought it would be," Thomas said.
"What's so commendable is that everybody is so willing and working hard to make this work for everybody and the public," Pino said. "It's important to the people on the front lines. They're carrying the ball and making the difference.
"We've seen a considerable amount of exposure for a county our size. Our one goal is how do we keep everybody healthy and safe while trying to render care and fulfill our mission?
"I'm so pleased at this point in time to say that no one in our ranks is ill. That's paramount and it's so wonderful."
A small number of Citizens' personnel were ordered to stay home and self-monitor for symptoms after they learned that some patients they transported tested positive for COVID-19.
None got it themselves, Pino said. "They're all clean. All are back to work. They're all good. Since then we've transported numerous COVID-positive patients. But we are making sure the critical PPE (personal protective equipment) is available to these folks. Thank God everybody is still good.
"I'll tell you the manner in which the crews are approaching their work. They are sincere; they know that like any other day, we deal with emergencies. This is what we do," Pino said. "We deal with people who are desperately sick. It's the renewal of the commitment that I see. They perform selflessly. It doesn't get any better than that. They are fulfilling the mission."
"There is some anxiety, but we are as prepared as I think we can be," Beal said. "I think the best thing to keep in mind is that this is your job and to remember when you respond to an emergency that it's not 'your' emergency. The patients are scared too and it's difficult to put them at ease when you are uneasy. But this is what we do."