Eight Pennsylvania teenagers, two of them from Indiana County, will be part of a tradition within a tradition come Thursday morning.
Madison Succheralli, of Homer City and Jenna Diem, of Rochester Mills, have been selected to be part of Macy's Great American Marching Band, for the past 14 years a gathering of talent from across the nation for a televised New York City showcase.
They in turn are among 185 musicians, accompanied by some 40 dancers and flag-wavers, in one of 11 marching bands that will take part in the 93rd Macy's Thanksgiving Day Parade.
"I play clarinet, piano and baritone," said Succheralli, a junior at Homer-Center High School who will play the clarinet in New York.
"I'm going to be on the mellophone," said Diem, a junior at Punxsutawney Area High School. "It is a marching band version of the French horn."
Her mother Karen said Jenna also plays alto and tenor sax for jazz band and French horn for concert band.
Madison's mother said her daughter also is involved in Pennsylvania Music Educators Association chorus and band competitions.
Madison and Jenna join marchers from Chester, Clearfield, Fayette and Tioga counties as Pennsylvania's contingent in the Great American Marching Band.
"Kids from all over the country audition for this," said Lance Jones, in his first year as West Branch High School music director after 10 years at Northern Cambria High School.
"You try out online, you make a video, and you submit it," said Madison's mother, Mandy Succheralli, assistant to the business manager of the Homer-Center School District.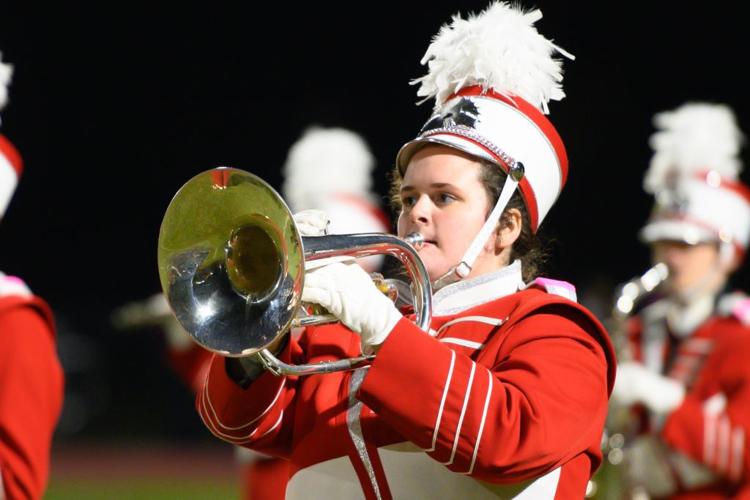 From West Branch, in Morris Township, Clearfield County, come two marchers for the Great American band, sophomore Noah Fry on the trumpet and senior Dalton Kristofits on the tuba.
Next door to West Branch is Philipsburg-Osceola. One of Jenna Diem's friends attends that high school, and was part of the parade last year.
"She encouraged me to go," Jenna said.
She was sitting with a friend who graduated last year in the Punxsutawney Area High School band room when she found out "and I kind of freaked out," Diem said.
"I've seen it on TV for the past couple of years," Madison said. "I wanted to be in it so I tried out."
The bands will march from Central Park West to Macy's main Manhattan location via Eighth Avenue, 59th Street, Sixth Avenue and finally 34th Street.
Macy's location is along 34th Street, near Broadway. The parade since 1952 has been shown to the nation on NBC-TV (locally, WPXI-11 and WJAC-6).
The bands are part of the mix with nationally known celebrities, floats and — usually — epic balloons.
But winds up to 30 miles per hour are possible Thursday. Parade spokesman Orlando Veras told AccuWeather that when sustained wind speeds exceed 23 mph and gusts surpass 34 mph, giant balloons cannot be operated due to New York City regulations.
The trip to New York is more than just assembling Thursday morning for a parade.
"They stay in a hotel in New Jersey, and she actually gets a five-day experience," Mandy Succheralli said.
They'll go to Times Square and take in a Broadway show.
"They get to eat at a couple different restaurants in Times Square," Madison's mom said.
There's also a dinner-dance for the band on Wednesday.
And their education? Jenna Diem said there would be a student leadership session, and organizers said there would be instruction conducted by a professional staff.
For the local participants, there's the chance they could repeat next year, if they audition and their auditions fit what's needed for the 2020 Macy's Great American Marching Band.
"She has a chance to do it again next year," Mandy Succheralli said. "She could do it one more time if she enjoyed it and wanted to go back."
Beyond that, Jenna Diem is looking at Penn State University, Slippery Rock University of Pennsylvania or Westminster College, while Madison Succheralli may attend Indiana University of Pennsylvania.