What do you get when you add a virtual human integrated circuit plus a card trick magician plus a traveling professor promoting the wonders of mathematics plus an amateur singer who has rewritten "American Pie" to emulate the math symbol pi?
The sum of that is Dr. Arthur Benjamin, the man once labeled "America's Best Math Whiz," who today is wrapping up a residence-style visit at the mathematics department at Indiana University of Pennsylvania.
Benjamin's whirlwind two-day visit as the first Terri Serafini Distinguished Visitor has included class lectures, mealtime programs with math majors and professors, and a limited schedule of public presentations highlighted by his "mathemagician" show of stunning feats of mental strength given Thursday evening in Stouffer Hall.
In Benjamin's hourlong show, he demonstrated his prowess at instantly calculating the squares of three-digit and four-digit numbers suggested by audience members, identifying the day of the week when spectators were born, given only their date of birth, and shared a phonetic code system for making words and sentences to help remember the first 60 digits to the right of the decimal in pi.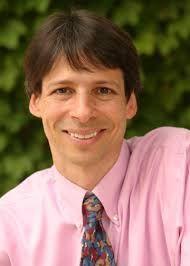 His public show stripped away the Sheldon Cooper "not from your planet" approach to mathematics and instead offered a "you can do this too" spin on math tricks. Benjamin's inside tips on the values of the digit 9 in a category of math that he called "combinatorics" empowered anyone in his Beard Auditorium audience to pull off what otherwise looked to be daunting tasks of ciphering.
Enabling more people to believe and understand that they can do the math is part of the mission of the Serafini endowment.
Serafini, a 1961 graduate of then Indiana State College, started his career in 1964 as a computer systems marketing representative for IBM, then in 1970 became a partner and co-owner of Computerpeople Inc. He led the national growth of the company and its 1,300-person workforce until 1997, when he sold his interest and helped to start Compucom Inc., a digital imaging and microfilm solutions company headquartered in Pittsburgh.
He has supported scholarships for students in mathematics and business at IUP, funded the Distinguished Mathematics Visitor Program and is launching the Serafini Summer Math Camp in Indiana.
Dr. Franciso Alarcó￳n, the chairman of the departments of mathematics and computer science, said IUP is part of a campaign to attract more students to study math and fill a growing number of unfilled jobs in math-related professions.
Of course, there are numbers that bear that out. Of 1.9 million students who earned bachelor's degrees at colleges and universities in the U.S. in 2015-16, only 22,000 — about 1.2 percent — received degrees in mathematics and statistics.
Of the post-grad degrees conferred in those years, 1.1 percent of the master's degrees and 1 percent of the doctorates were awarded in math and statistics.
The figures come from the National Center for Education Statistics.
To bring those numbers up, Alarcó￳n said, the mission is to convince the nation that a strong grasp of math isn't beyond reach.
"It's common in popular culture to accept that math is hard. It's typical for people to say, 'oh, I can't do math.' It's almost like they're proud to say that," Alarcón said.
People readily confess their math deficiency but wouldn't dare admit they can't read or spell or drive a car very well, Alarcó￳n said.
"But somehow it's become OK in culture to say you're bad in math?"
It's been a tough sell. IUP once had about 40 students per year graduating with a degree in math. Now the department has a total of 70 math majors across the classes, and the figure is getting smaller.
"We need to provide ways at an early age for kids to get engaged with math in ways that are maybe more attractive," Alarcó￳n said.
Enter the Serafini guest program and Benjamin's visit to the campus, with the "mathemagician" program, a talk on the mathematics of bingo, and a workshop on mathematical card tricks (at 2:30 p.m. today in Stright Hall) as his ways to get people engaged in math.
"It's about attitude adjustments. The goal is not for people to see how smart I am; it's showing them how smart they can be," Benjamin said.
For example, he said, audience members had the power to calculate the square of a five-digit number with the help of his phonetic code and the root equation written out on an easel pad — albeit not in 65 seconds, as Benjamin did to the roar of the audience at the mathemagician show.
Part of the challenge also is to point the students, once they take interest in math, toward the fields most in need of qualified people.
"Statistics!" Benjamin said without hesitation. "The more you understand data — we are now surrounded by data, we have more information, and computers extracting information at unimaginable speed. What we don't have are enough people who can harness that information and put it to good use for the betterment of society.
"The people who understand numbers and understand statistics are in tremendous demand. Learn statistics and computer science and you'll be well-employed the rest of your life."
To meet workplace demands for math skills, Benjamin said, educators in America first ought to give mathematics higher priority.
"I think other countries take math education more seriously than we do, and I don't think we value the teaching profession enough to attract the best and brightest," he said. "There are some excellent teachers out there, of course, but the countries that are at the top of the world in math education are the ones who pay their teachers the highest salaries as professionals.
"And as long as we put more emphasis on the performance of the football team than we do on our math team, I think we'll get what we pay for."