It took Indiana's Danny Mock 168 days, 14 states and approximately 2,200 miles to complete his treacherous trek on the Appalachian Trail.
When Mock, 30, reached his destination on Sept. 16, he posed for a photo with his 30-pound backpack high atop Mount Katahdin, which at 5,267 feet is the highest mountain in the state of Maine and the centerpiece of Baxter State Park.
"It was truly the journey of a lifetime," said Mock, who began his hike April 2 at Amicalola Falls State Park in Dawsonville, Ga. "Things really got really emotional and bittersweet the last few days.
"Climbing up to the top of Mount Katahdin was by far the hardest climb of the whole trip. When I finally got up there, I got to see the legendary sign and there was a list there of the people who have actually done it and made it up there. It's not an easy thing to do.
"I am like, 'Oh, my God, I can't believe I am now in that group.' I climbed above the sign, threw my fist up in the air and started celebrating. It was quite the victory photo for me," he said.
Mock said it was tough to bid farewell to a lot of friends he met along the way.
"The end was bittersweet," he said. "I was with my trail family and it was the last time we would see each other in this context after living it for so long. It was the last mountaintop lunch break on top of the world, the last tent sites on a peaceful mountain stream or on a lake in the remote Maine woods listening to the sounds of a loon.
"I miss having everything I need to survive on my back, the clean air, falling asleep when the sun goes down and waking up when it comes up, the peaceful meditation that comes after walking for hours. I never had to think about what made me happy, I just was. 
"I set out by myself and ended up making really, really good friends out there. I met a guy on the second night of my hike and we ended up walking the entire way together. The Appalachian Trail is really a magical place. The people and things that surround it just become your lifestyle."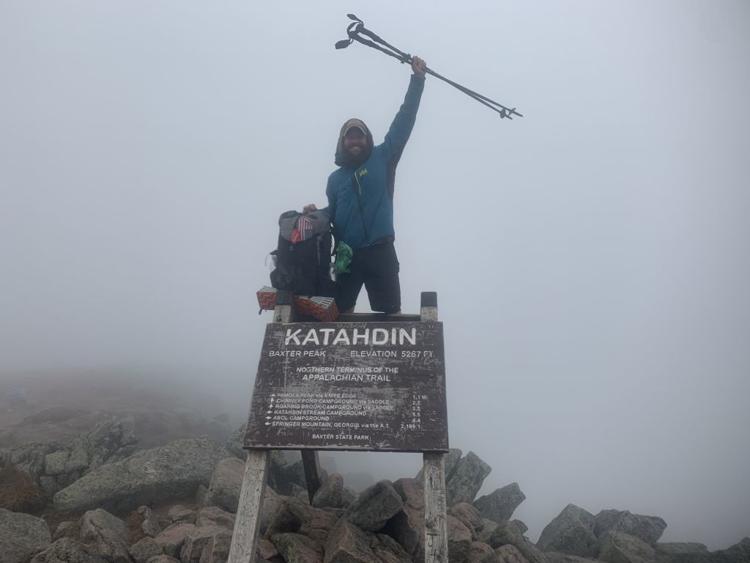 Mock estimates he wore out five pairs of hiker boots, burned about 10,000 calories a day and lost 20 pounds, despite a steady diet of junk food.
"I was outside every day and walking over mountains in the range of about 15 to 20 miles a day," he said. "I dealt with all kinds of weather, from thunderstorms to sizzling heat, and from blizzards to cold temperatures. My feet grew a half a size from the constant beating every step.
"I pretty much wore the exact same clothes every day. I think the longest I went without a shower was 12 days. As soon as you took a shower it wore off right away, just back to being dirty and stinky again. I slept in a tent in the summer, and when it got real hot, I slept in a hammock.
"I swam in a lot of swimming holes and creeks and tried to keep myself as clean as I could, but I pretty much became a dirty guy living in the woods.
"I had a big beard and lived outside, so it would be easy to mistake me for a homeless person, which happened occasionally, but I essentially was. And I was pretty much eating primarily junk food, Pop Tarts, ramen noodles, tuna and candy bars."
Mock overcame numerous obstacles during his lengthy hike, but "quitting was never an option," he said. Even so, an injury suffered on a portion of the trail in Pennsylvania tested his mettle.
"I sprained a ligament in my foot eight miles before reaching there and I thought I was done for good, but I took a week off and pushed through the pain until it healed or something else hurt more and I didn't notice it anymore," he said. "It was my only real injury."
Mock said he's still readjusting to everyday life since returning to Indiana two months ago.
"Coming back to society was a very hard adjustment. It was hard to sleep in a bed again, and it was strange cooking real food that comes with its own moisture, and the lights were bright and always on, sounds and people were very loud," he said.
"I'm grateful for my experience and all that I've learned from it. In the meantime, I'm going to be slinging some pizza at Josephine's (on Philadelphia Street) and dreaming of my next big adventure."
Mock said he has raised about $15,000 toward his goal of $25,000 for the Raising Stars Foundation, the same organization for which he walked the Appalachian Trail. Raising Stars is planning to build a small school in Kare, Haiti, a Third World country in the Caribbean which his father, Dan Mock, has visited on several mission trips.
"More money is still coming in (for the project) and I'm thankful for that," said Danny Mock, who visited Haiti with his father in December.
Mock said he may eventually hike the Pacific Crest Trail, which runs 2,650 miles through California, Oregon and Washington, from the border of Mexico to the border of Canada, or the Continental Divide National Scenic Trail, which runs 3,100 miles between Mexico and Canada.
"Mentally, after being home for awhile now, I just realized that I have become much calmer and don't worry about things that are out of my control," he said. "There is a lot of happiness to be discovered in simplicity. 
"But in two years, who knows, I might decide to give one of those other trails a try."
• About 2,200 miles long, from Maine to Georgia, connecting 14 states
• Highest point: 6,643 feet
• Up to 3 million people walk parts of the trail annually
• Only about 500 people walk the whole trail per year, a quarter of those who attempt it
Source: Appalachian Trail Conservancy