Health care is at the forefront of most people's minds these days. With the current COVID-19 pandemic, the importance of proper hand washing and hygiene has come to the forefront.
However, there are parts of the world, such as rural villages in The Gambia, where completing these simple health tasks are challenging, due to a lack of resources and education. There are, however, groups and educators working to combat this problem.
Abigail Peace, 23, of Clarksburg, is no stranger when it comes to traveling to Africa. During her undergraduate studies at Washington & Jefferson College in Washington, Pa., she traveled to West Africa twice: once as part of a class and another time as part of the Magellan Project, studying and promoting health care in The Gambia.
It was during these trips that she first heard of the Peace Corps.
"While I was over there, I had a lot of people ask me if I was part of the Corps," Peace said. And the idea stuck with her.
After graduation, she was left feeling a little unsure.
"I wasn't sure what I wanted to do," she said. "But I thought about it and I knew that I wanted to make an impact."
From there, Peace looked into things and was invited to participate with the Peace Corps in April of 2019. She applied to return to The Gambia to continue working with what she started during school.
"When you apply, you can choose a certain country or area of work that you want to do," she said. "But sometimes you'll apply and they'll think you're a better fit for somewhere else and that's where you'll be assigned."
Peace, however, was chosen to go to The Gambia and she started working there in October. Her first few weeks were working with Corps members to learn what it was the community needed and what projects would help them to reach their goals. It was also important that the projects be well received by the community members and leaders who would take what they learned back to their villages to help more people.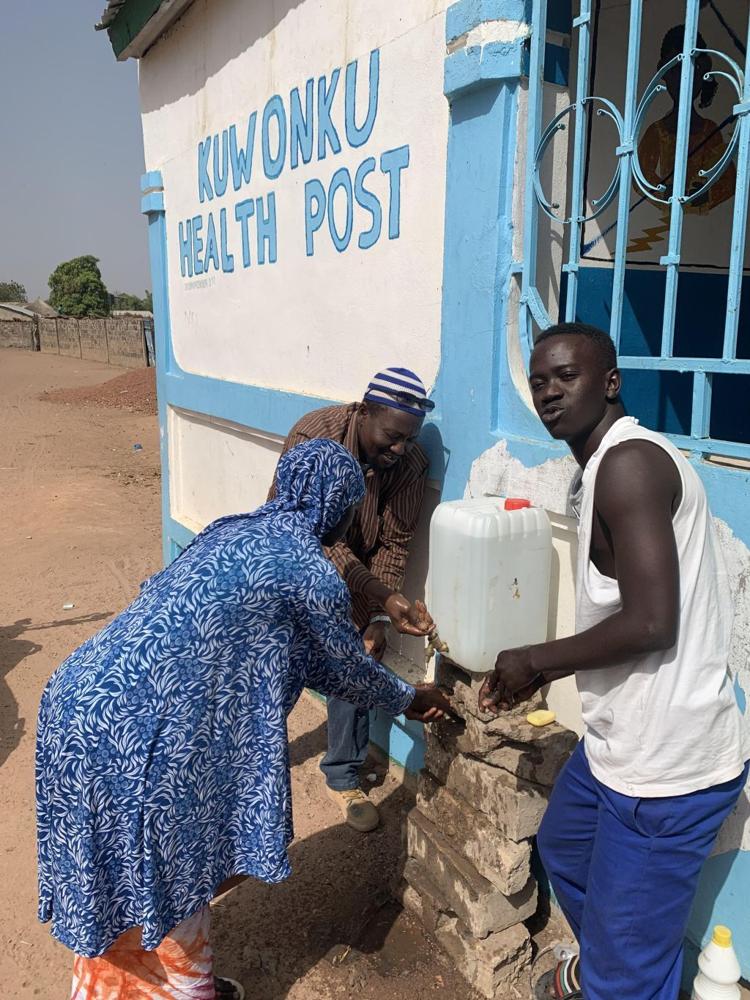 From there, Peace worked as a health care volunteer, helping people to understand maternity and child care, malaria prevention and hygiene.
"There wasn't any running water," she said of the area where she was assigned. "So we set up hand-washing stations. We made taps out of large barrels and jugs and provided soap for people to use to wash their hands and keep sanitary."
Peace also spent time at the local health clinic, where she said the health care providers were wonderfully helpful with her projects.
"They were great in building the washing stations and for helping spread the message to community members."
The greatest challenges Peace faced while in Africa was the language barrier.
"I had to do my best to learn a new language," she said. "And even now I don't feel like I'm proficient."
Luckily, Peace stayed with a host family that helped make her feel welcome, kept her safe and assisted with language issues.
"They were absolutely wonderful," she said. "Any problem or issue that I had, I'd tell them about it and they'd help resolve it. A lot of people were very happy that I was there and wanted to work with me."
The culture shock also took some getting used to.
"We were in a very rural area," Peace said. "Education past the sixth grade is scarce. It really showed me that we take so many basic things for granted like education and food security and running water."
Peace was in The Gambia for around five and a half months, but was pulled from the work as the coronavirus pandemic took hold.
"It's been hard. I've kept in touch with my host family and it was so difficult telling them that I had to leave when what I was there to do was help with health issues," Peace said. "I've been trying to find a balance of encouragement and yet being serious about how serious the virus is. There isn't really a mass media presence for them, so we want to make sure that they're still following guidelines and being safe."
Peace plans to return to the region in October to finish out her assignment and plans to stay there until December 2021.
"The average length of service in the Corps is two years," she said, "although it can vary from position to position."
She had the following advice for others who are looking into joining the Peace Corps and helping abroad: "Make sure you do your research. No matter where you go the living conditions will be different and the language will be different."
She said there are many different opportunities available.
"The tasks are really varied, so you can find something that's important to you and work towards that. If you're interested in economics or health care or anything else you're passionate about, look into it, because that's what you'll be passing on to other people."
Peace said she doesn't regret helping out at all, despite some warning her that two years is a long commitment.
"The five or so months I was there went by so fast," she said. "I was 22 when I left and didn't really have anything to tie me down here. So I thought, why not take a few years and do something that will be impactful for others?"