The Armstrong County Coroner's office said Brian Henry Swatt, 21, failed to stop at a stop sign at the end of Butler Road. His 2014 Nissan Altima traveled across East Brady Road, and then went approximately 150 yards down over an embankment, coming to rest on its roof.
"Brian Swatt was not only an outstanding member of my team, but also a close friend," Pittman said Saturday night. "He worked side-by-side with me throughout my campaign and began working for my Senate district office just four days ago. His tragic death has left us shaken and distraught."
The coroner's office said the crash went unnoticed for 24 hours, until emergency crews from Applewold and East Franklin were called out around noon Saturday.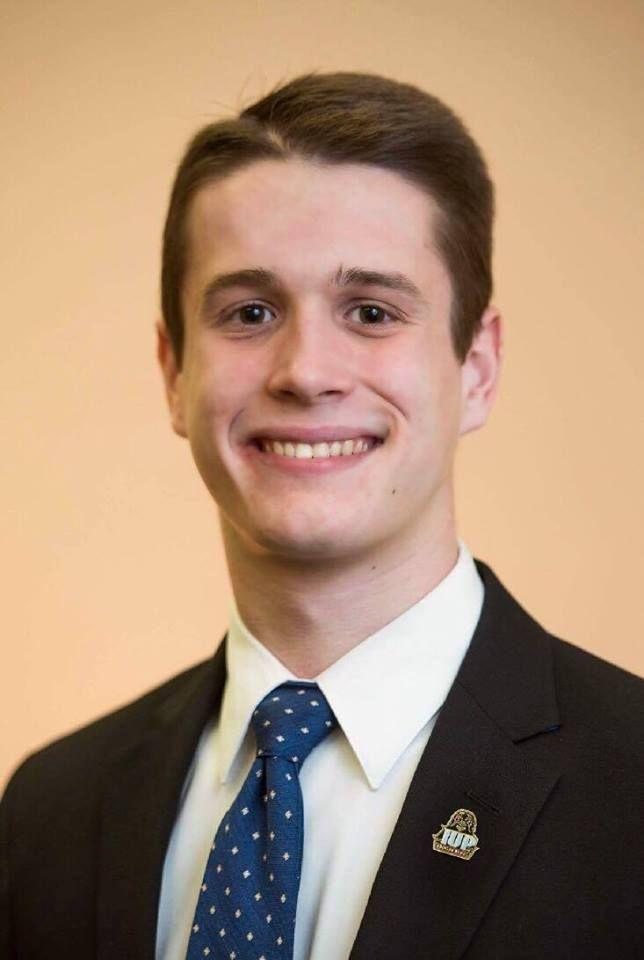 "I located tire marks in the grass and broken tree limbs in the area of the crash and located Swatt and his vehicle," Kittanning state Trooper Kalee A. Wietrzykowski said in her report.
Swatt was pronounced dead at the scene by Armstrong County Chief Deputy Coroner Robert Bellas, who said the victim was not wearing a seat belt.
Bellas said his office was assisted at the crash scene by state police at Kittanning, East Franklin Township Volunteer Fire Department and Morris Tire and Towing.
Swatt came from Mayfield, Lackawanna County, but had an address in Indiana. He earned Eagle Scout honors in 2016, was a two-term president of IUP's Student Government Association and also was involved in the College Republicans and the Kappa Sigma social fraternity.
"This is a heartbreaking tragedy," IUP President Dr. Michael A. Driscoll said.
 "He was a charismatic young man who always went above and beyond," Pittman said. "His ambition and dedication to serving our community helped to make a difference in the lives of those around him. His list of professional accomplishments was extensive and impressive for his young age."
Until recently Swatt served as an appointee of Gov. Tom Wolf on the Board of Governors of the Pennsylvania State System of Higher Education, which governs IUP as well as 13 other state-owned universities.
"I am heartbroken to hear of Brian's tragic passing," Wolf said Saturday night. "He was a bright and passionate student leader that sought to serve the public. My thoughts are with his family, friends and colleagues."
Swatt had just completed his junior year pursuing a political science major at IUP.
"Brian led with integrity and intelligence, and we are grateful to have had him serve on the Board of Governors," Board Chair Cynthia Shapira and system Chancellor Dr. Daniel Greenstein said in a joint statement.  "He will be missed terribly. This loss is felt by everyone at the State System of Higher Education, and our hearts and prayers are with the Swatt family and the entire Indiana University of Pennsylvania community."
On Facebook, Swatt said it would forever be one of the highest privileges and honors he has had.
"It was an incredible opportunity, and I have been grateful to meet and serve alongside such an outstanding group of people," Swatt posted last month. "The experiences I have had on the board and outside of the classroom will always surpass any education that I have received in the classroom. All of the success that I have had thus far in life can only be attributed to the values that my parents have instilled in me and the wise guidance they so diligently provide."
The news stunned state Rep. Jim Struzzi, R-Indiana.
"Brian was a great guy," Struzzi said. "He was such a promising young man. He had such great potential. It is a great tragedy and a great loss. He would have done so much to help our county and our state. I am deeply saddened."
Pittman is scheduled to be sworn in as Sen. Don White's successor Monday in Harrisburg. He said he did not believe it could be postponed, as Sen.-elect Doug Mastriano, R-Franklin County, also is to be sworn in.
"I will greatly miss Brian's kindness, enthusiasm and energy," Pittman said. "His life was cut far too short, but his impact upon our lives will never be forgotten. Gina and I are praying for strength for Brian's parents, his family and friends during this devastating time."
Swatt was a 2015 graduate of Lakeland High School in Scott Township, Lackawanna County, and was the son of Brian and Christine Swatt.