A high school teacher from Indiana has published a book on the life of a local 19th-century insurrectionist who had a key role in one of the best-known skirmishes that led to the American Civil War.
America has had her share of wars through history and the greatest of the conflicts was fought by the divided nation against itself. The Civil War, fueled by a dispute over the power of the federal government to prohibit slavery in territories that had not yet become states, claimed some 620,000 men of the Union and Confederate armies.
Fights over the very concept of slavery itself — the ownership of people and forced servitude — began well before the start of the war in 1861, and arguably the most notorious was the October 1859 attack led by John Brown on the federal arsenal and rifle factory at Harpers Ferry, Va. His quest was to disarm the state's military, to arm slaves and lead the way to freedom for about 3.9 million slaves.
Although hundreds of people were aligned with Brown's abolitionist way of thinking, a scant 20 men joined him in what later became known as John Brown's Raid. One of his insurgents was a native of Green Township.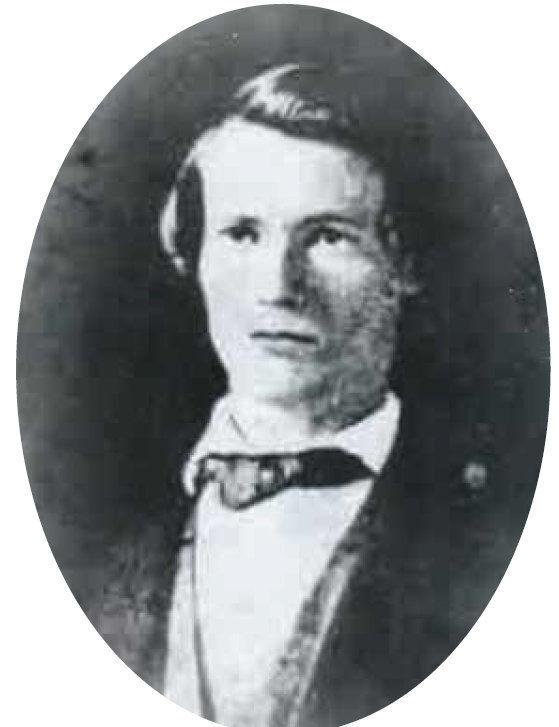 The life story of Absalom Albert Hazlett, who is memorialized on a historic marker along Route 954 south of Indiana in White Township, is told by Spencer Sadler in "Absalom Hazlett: A Loyal Soldier in John Brown's Army." It's the product of Sadler's curiosity about the simple roadside plaque and eight years of research of Indiana Gazette archives, The Indiana Messenger of the 1800s and the works of late Marion Center historian Clarence Stephenson.
Sadler's devotion to putting Hazlett's life in the spotlight began as a matter of local interest, as they shared the same county birthplace. But more recently his local interest is in a different context, as Hazlett, 52, has taught in Virginia for six years and has served since 2016 as the librarian and athletic director at Washington & Lee High School in Colonial Beach. The town is on the banks of the Potomac River, almost midway between Richmond and Washington, D.C. From there, he's 135 miles from Harpers Ferry and has been a periodic visitor during his research.
The Absalom Hazlett marker caught Sadler's eye a decade ago on his daily commute to and from work at Hiram G. Andrews Center in Johnstown.
It is posted next to an abandoned farm field said to have been cultivated by Hazlett as a worker for John Allison many generations ago.
It's north of a convenience store and across from a barbecue restaurant.
It was erected in 2009. Several local Civil War researchers, some clad in period clothing, celebrated its dedication. A photo of the event appears in Sadler's book.
"Each time I went past, I read a little bit more, and I started doing some research," Sadler said. "I thought it would make a good book. I came upon the idea to tell the story in reverse chronological order, and for some reason it clicked."
Hazlett's life story tells of his growing up in Indiana County and his family's move west to Kansas, where he met Brown and fought with the Free State forces in 1858. History shows Hazlett as something of a rough-and-tumble character.
SPOILER ALERT!
Hazlett, 22, was one of two men who escaped the federal forces that retook the Harpers Ferry arsenal but was captured days later near Carlisle.
Along with Brown and the few raiders who survived the rebellion, he was tried and hanged. Hazlett was executed in March 1860 in Charles Town, now in West Virginia.
"This is a guy from a small farm family who didn't seem to be well respected," Sadler said. "Digging further, some people say the boys may have been ruffian types.
"It's funny how the arc of a character, even in a short life, was able to extract some good from maybe a shaded beginning because of a fundamental belief. I think that's what comes across in the book: one, how a foundation is the key to character and, two, how each person has a rippling effect, the way that John Brown brought a lot of people into his circle."
In a politically polarized nation, some people praised John Brown's raid and called him a hero and a martyr, while others condemned it and thought of Brown as a fanatic and a terrorist.
Sadler drew parallels with the Jan. 6 attack on the U.S. Capitol.
"It ties into what happened today with the insurrection, even though I don't think the cause was as pure," he said. "I do think that now we see this rippling effect and how these people's lives are going to be changed forever from that one day. Those are the things I was striving to get across."
Where race played a major role in the historic events — the enslaved people generally were Black — it's noted that Hazlett was White, as were Brown and most of the insurrectionists.
"I think what does matter, in my research, there's the myth of the White savior to the Black slave motif and there's that stereotype," Sadler said.
"There's a plaque in Harpers Ferry that probably should be taken down: It's a tribute to the 'loyal slave.' Some historians say slaves were passive and did not fight for their own freedom. But that's not true; when John Brown and his guys went out recruiting, they did round up some slaves that wanted to fight.
"So, when you dig deeper, there is a record of slaves fighting for their own freedom and I think that gets lost in history."
Fonthill Media LLC commissioned the book under its "America Through Time: Adding Color to American History" series.
It's Sadler's second book through Fonthill, along with "Indiana County Through Time," cowritten with Mike Rieg, a retired Indiana Area Junior High School history teacher.
"I caught the history bug from him," Sadler said. "A really knowledgeable guy, an inspiring guy."
He said English teacher Gretchen Barbor fanned his interest in writing.
Sadler earned his teaching degree at Point Park University in Pittsburgh.
"Absalom Hazlett: A Loyal Soldier in John Brown's Army" was published in November and distributed by Arcadia Publishing.
It is available in paperback, for sale online at Amazon, Walmart, Barnes & Noble, Target and Good Reads.