There's no shortage of interest — and angst — over developing the plans to open Indiana Area School District's six schools and keep its 2,800 students healthy and safe in the wake of the COVID-19 pandemic, which is resurging daily according to state Health Department statistics.
A 25-page guide to how the district proposes to run in-person classes in the buildings, operate the cafeterias and run the school bus service leaves nearly no aspect of school life unrecognized.
But no part of it is guaranteed to remain as written pending the school board's next business meeting Monday, and even then, any part of it is subject to change to meet the evolving coronavirus response guidelines set by Gov. Tom Wolf, the health department and federal Centers for Disease Control and Prevention.
The first of eight topics on the agenda for a meeting Monday evening of the school board's Academic and Extracurricular Committee — even before calendar revision plan calling for delaying the announced start of classes to Sept. 8 — the health and safety plan commanded the board's largest-yet online audience of more than 50 people who logged on the virtual meeting on Google Meet.
The overload of remaining business prompted the committee to call a second meeting this week, for 5:30 p.m. Thursday, to finish the items due for recommendation for action four days later.
District Director of Education Robert Heinrich guided committee members through the tentative plan and fielded questions on the fly from district parents and taxpayers.
Fundamental safety guidelines call for student first to be screened by their parents at home before boarding school buses for fevers or other symptoms of a COVID-19 infection.
With some exceptions, students will be required to wear face coverings before they board buses, all day in school and through their ride home.
Those who can't comfortably wear masks will be offered face shields, Heinrich said.
Those who can't put anything on their faces, for documented medical reasons — the same ones that would require an IEP, or individual education plan, to be devised for the student — would be spaced 6 feet away from other students and teachers.
The rules are set by the state, Heinrich said.
"We must follow the mandate," he said. "If a parent refuses to have their child wear a mask, we must move the student 6 feet away. We can't just ignore the mandate because a parent doesn't want it.
"So it's not like we're going to cave to a parent. We must
follow the law. … It's not for parents who object for political reasons or have moral objections. This is the health code."
Students wearing masks could sit as close as 3 feet from one another, according to the plan.
It's an either-or situation, Heinrich said: either a face covering or 6-feet of spacing would satisfy the plan.
Many parts of the plan are based on pending results of surveys asking parents if they plan to send their child to the classrooms, have them log in from home for synchronous attendance of in-person classes, or use the district's IDEAL cyber education system for "asynchronous" online lessons.
Hopes are for as many parents as possible to transport their children to school, to ease the distancing standards planned for the school buses, said Transportation Coordinator Michael Travis.
Kids in the schools will be given frequent mask breaks in well-ventilated areas — time off during or between classes to remove their masks, adjust for comfort and get some fresh air. The 6-foot social distancing standard would be in effect for mask breaks in the corridors or outdoors as weather allows. But the administration has no specific plan for the amount of time the mask breaks would take away from instruction time. Those would depend on plans being put in place by the principals for each of the buildings, Heinrich said.
Dining would be spread outside the cafeteria. Students could shed their masks while having breakfast or lunch, but the 6-foot distancing would be required, meaning some students would take their meals to locations not yet specified in the plans. How much extra space would be needed, again, would depend on the number of kids entering the buildings.
Masks wouldn't be required for recess or gym classes being held outdoors where spacing could easily be achieved.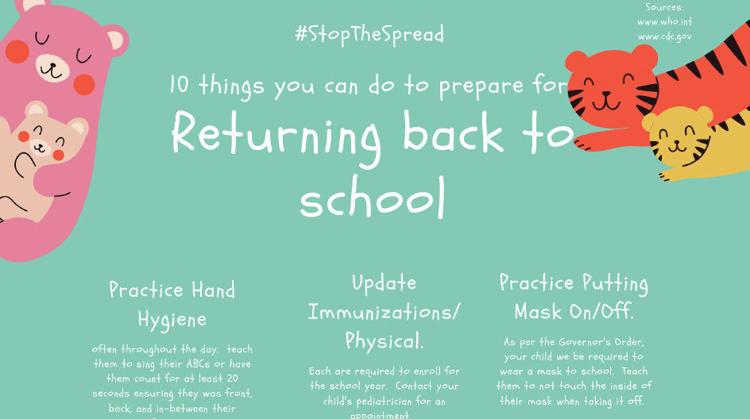 Choral and music classes, in which airborne spread of the virus could be heightened, would be held only at the senior high school, and outdoors when possible, according to the tentative plan.
Practices for sanitizing classrooms, desks and other frequent touch points are covered as well. The district is installing touch-free water fountains and encouraging students to bring their own refillable beverage containers with straws so they can sip cold water without removing their masks, Heinrich said.
The plan addressed the steps the district would take if students show multiple symptoms of COVID-19 infection during the day, and what procedures, including contact tracing, would take effect when anyone is positively diagnosed with the disease.
Time constraints kept the committee from considering the latest aspects to the district's extracurricular and athletic participation plan that would be in place for football practice and marching band rehearsal. (The band wouldn't be sent to away games, according to the health and safety plans, Heinrich said.)
Formal debate on changes to the school calendar wasn't taken up, either.
Those will be studied Thursday and presented to the board for adoption Monday.