CENTER TOWNSHIP — Homer-Center High School science teacher Brad Adams chuckled Friday at a suggestion that his story of a volunteer personal-protective equipment fabricating project by his students would quickly be outdated.
"It's a great thing but it's growing like a monster," Adams said.
But indeed the project has changed almost daily since early in the week when word first broke that Adams and his students were using 3-D printers to churn out headband frames for protective face shields for medical workers. They were donating them to Indiana Regional Medical Center.
It's grown in participation and benefit daily.
What's been steady is that it's meeting health care workers' needs for protective gear as they treat patients who may have a COVID-19 infection.
Adams' network of five students has become a mini-factory making the headbands for the face shields.
"We call them the COVID Avengers, so they have a little stake in the battle against the virus that kicked them out of their brick-and-mortar school," Adams said. "It changed their lives, so now they feel like they're doing something to help out the health care workers in our community."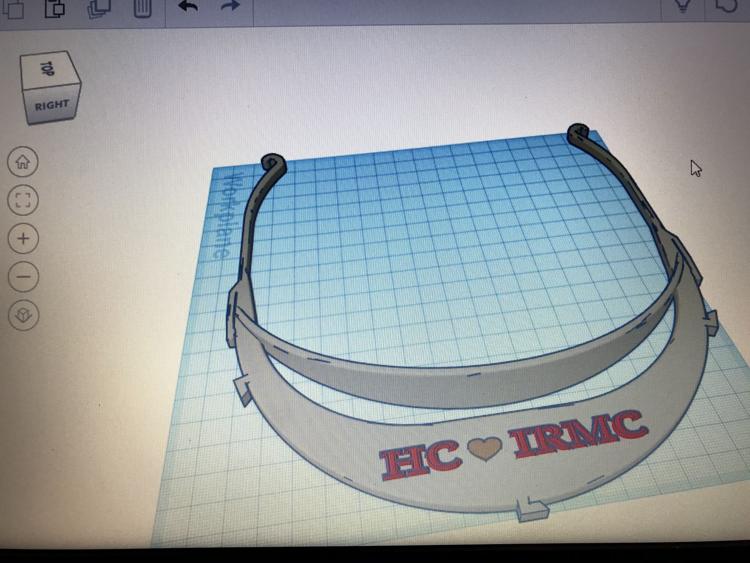 3-D printing is the buzzword for additive technology. The "printing" devices follow a digital blueprint to apply thin layers of material, usually plastic, and after hundreds of layers have shaped the desired object.
The headbands have three hooks, corresponding with three notches (from a standard three-hold punch) in a clear acetate sheet that completes the protective shield for doctors and nurses. And more.
"We assemble them here at our house, then we drop them off at the hospital," Adams explained.
"It's always neat when something like this happens, where you need to turn on a dime. It's that little singular guy who tinkers in the basement who can find a solution faster than waiting for a large corporation to move. And then once you do the grass-roots, the people make the personal connection and ask to jump on board.
"That's so much fun to see, because then it's a whole neighborhood of collaboration that would not have happened otherwise."
As word of Adams' crew spread, technology teacher Michael Rescenete and students from Indiana County Technology Center joined the project.
Rescenete reported Tuesday to ICTC Director Michael McDermott that production was underway at his home, and that Indiana Area School District teachers Mark Rend and Daniel Murphy had begun production too.
"This little army of 3-D printers is growing and growing," Adams said.
By Wednesday, Adams created a Facebook page, "COVID Avengers — 3D Print Face Shields to Donate to Hospitals," with instructions for local students and other 3-D printing enthusiasts about the project. A link on the page directs 3-D printer owners to a website (thingiverse.com) where they can download the digital blueprints for an array of printable products needed for the battle against COVID-19.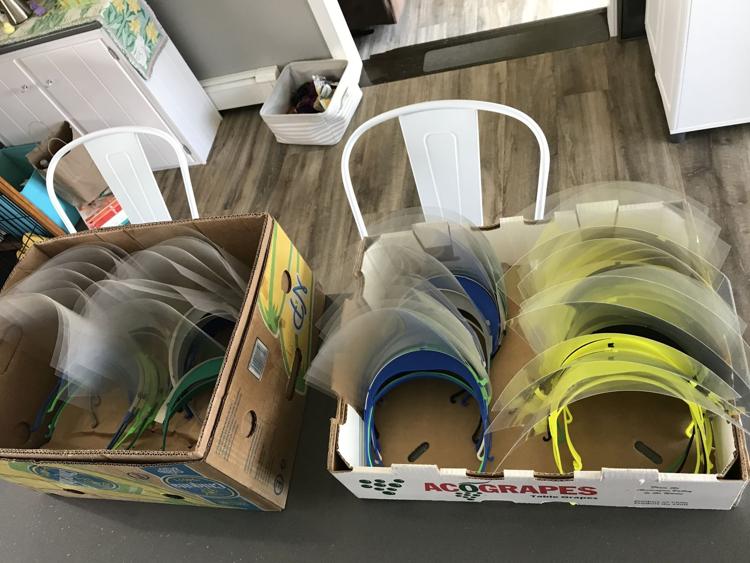 Paramedics approached the "COVID Avengers" for help. Now a supply of face shields will go to Citizens' Ambulance Service.
By Thursday evening, Homer-Center school board members raved about the project and the publicity it had so far generated for the district.
High School Principal Jody Rainey told the board that Penns Manor School District students had joined the project.
Biology teacher Lisa Adams — Brad's wife — told the board that Homer-Center alum T.J. Roser, a staffer at the Fox Chapel-based organ transplant coordination program, Center for Organ Recovery and Education (CORE), had asked the group for 100 face shields.
Yet another Homer-Center graduate, Megan Vilcek, now living in New York City and working as a physician assistant in a transplant center there, also will get a shipment of face shields from the group, Brad Adams said.
"The more people hear about it, the more they ask. 'I'll take 10; I'll take 25.' And it's really exciting because the kids know they are helping people all over the place," Adams said.
Counting the IRMC order, Lisa Adams told the board on behalf of the COVID Avengers, "We need to crank out 300 more by next Friday. We're doing 38 a day — we're busy!"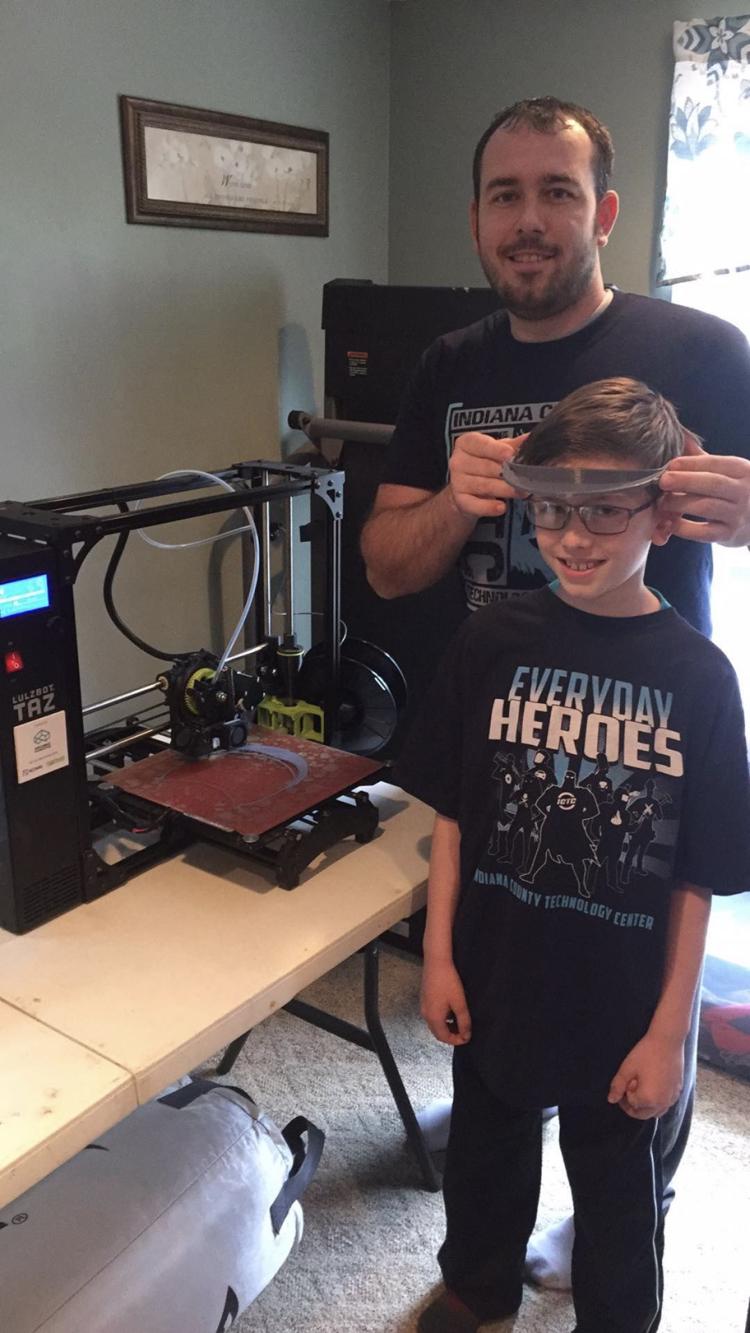 By Friday, Brad Adams said, production capacity had risen to 60 to 70 a day. That's if nearly 15 3-D printing operators now on board ran the machines up to 15 hours a day. One face shield frame can be completed in three hours, actually with little attention from the operator except at the start and finish.
Adams credited Hilliary Creely, the associate dean for research at the Indiana University of Pennsylvania School of Graduate Studies and Research, who had contacted IRMC for ideas of how IUP could assist the hospital during the pandemic.
As partners in promotion and development of the SteamShop concept for STEM education in Indiana County, Creely relayed the 3-D printing opportunities to Adams.
"I'm watching IUP collaborate with IRMC for something huge that could go national if they figure out their solution," Adams said. "And all across the nation I've been reading of people making face masks, designing the next best face mask."
The "COVID Avengers" Facebook group page not only connects the local team members but can encourage other 3-D printer users to do the same and get products out as soon as possible — "because it can only save lives," Adams said.
"That's what excites our kids. Our students feel like they've got a stake in the game, they feel like they're not just sitting there doing nothing. They feel like they're helping not only their community, but their efforts are reaching out far beyond our community.
"I think you need to share the love with the health care workers. They are on the front line," Adams said. "We're doing anything we can to help them out. Essentially, that's who and why we're printing and distributing and spending the hours doing it."