Social media publicity has been credited for leading police to two unknown men who were wanted in connection with the weekend shooting death of an Indiana University of Pennsylvania student near the campus in Indiana.
More accurately, the publicity led one of the suspects to the police, investigators reported.
Delmar Chatman, 21, went to the Indiana Borough police station about 3:30 p.m. Sunday, less than seven hours after his photo was circulated by police on Facebook and by area news media, and told officers that he was present when Jaedyn Wright, of Pittsburgh, was mortally wounded in the parking lot at Carriage House Apartments.
Wright, 20, of the Pittsburgh area, was wounded just after 4 a.m. and died about a half hour later at Indiana Regional Medical Center.
Chatman told police that he watched his companion, Terrion Gates, pull the trigger, according to court records.
Chatman and Gates, 18, both of Johnstown, bring to four the number of people charged with Wright's death. Along with suspects named Saturday by police — Isabella Edmonds, 17, a high school senior from White Township, and Isaiah Moore, 20, of Philadelphia — they face charges of homicide, robbery, theft and conspiracy.
Wright, a communications media major at IUP, drove to Carriage House at Moore's request and sold $10 worth of marijuana to Chatman and Edmonds, according to police. Moments later, Wright was shot in the center of his chest as he sat in the driver's seat of his car when Moore and Gates approached him to demand drugs and money.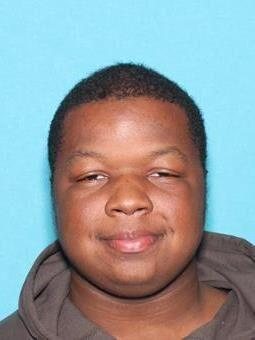 Surveillance video from the security system at Carriage House first led police to Moore and Edmonds, Det. John Scherf wrote in criminal complaints filed at Clymer District Court. An apartment complex manager identified Moore on the recordings, and a resident in Moore's apartment told police that Edmonds had been staying there with Moore.
In Scherf's step-by-step account of the fatal confrontation, the cooperative statements from Edmonds and Chatman closely matched what police saw on the security recordings. The video showed Edmonds and Chatman standing in the doorway of the apartment building and held the door while Gates and Moore went to Wright's car.
Edmonds told police she saw a muzzle flash and saw Wright fall from his car onto the pavement. Chatman, according to the criminal complaint, told detectives that he heard Gates "yelling at the marijuana source and then heard a gunshot (then) looked outside and observed Gates running away from the car."
Chatman said Moore told him that Gates shot Wright, according to the charges.
As the four fled on foot from Carriage House, Moore phoned 911 to send an ambulance for Wright, according to Edmonds' account to police.
Edmonds was taken into custody Saturday morning on Oakland Avenue and has been held without bond at the Indiana County Jail. Chatman also was denied bail at a preliminary arraignment by District Judge Christopher Welch.
Online court records show preliminary hearings were set for 11 a.m. Monday for Chatman and Edmonds. Proceedings were postponed but no new dates were set. As of this morning, no attorneys had been named to defend them.
Moore and Gates remained at large this morning, Borough Police Chief Justin Schawl said. Indiana police asked anyone with information about the men to call (724) 349-2121.