PURCHASE LINE — A week after scoring a season-high 64 points, the Purchase Line's offense was held to just one touchdown Friday night.
Berlin's defense also limited the Red Dragons to 180 yards total offense, intercepted three passes and recovered a fumble en route to a 14-7 victory in a Heritage Conference-WestPAC crossover game involving two third-place teams.
"When you take (a bunch of) penalties and turn the ball over four or five times, you're not going to win," Purchase Line coach Matt Falisec said. "We knew coming in that they had a big line, and I think they beat us around up front.
"I'm not happy with our performance going into the (District 6 Class 1A) playoffs next week. We had a lot on the line tonight and kind of lost the edge."
Purchase Line needed a win to claim a first-round bye in the playoffs. Instead, the Red Dragons will play host to a game next week.
With the game tied at 7 in the third quarter, Berlin was faced with a third-and-20 from its own 23.
Purchase Line's Clayton Patrick was flagged for a late hit on Mountaineers quarterback Will Spochart after he had completed a 17-yard pass to running back Cole Blubaugh.
The next play, Blubaugh broke through a big hole and ran 44 yards for the winning touchdown at Barry T. Madill Memorial Field.
The setback snapped Purchase Line's three-game winning steak and dropped the Red Dragons to 6-4. Berlin improved to 9-1.
"Our kids battled back and played hard," Falisec said. "It was a tough, physical game.
"I don't think I did a good job coaching today."
Spochart tossed a 37-yard touchdown pass to Blubaugh on the opening series of the game to cap a six-play, 65-yard drive and put the Mountaineers up 7-0.
On their next possession, which came after an interception by Isaac Etris, Berlin players dropped two potential 30-yard touchdown passes in the end zone in matter of three plays.
Etris dropped one from Spochart on second down and Blubaugh followed suit on fourth down on a halfback pass from Preston Foor.
"We were sloppy and that was a credit to what Purchase Line was doing defensively," Berlin coach Doug Paul said. "Yeah, we did drop some touchdown passes, but that's football.
"These are 14-, 15-, 16-, and 17-year-old kids out there. Stuff like that happens, and we battled through it."
The drops caused the Mountaineers to lose their early momentum, and Purchase Line was able to put together a 15-play, 75-yard drive that ate up nearly eight minutes on the clock.
The drive was capped by quarterback Jacob Barnett's 1-yard sneak, which tied the game at 7 with 4:25 left in the second quarter.
Blubaugh's long scamper with 3:29 remaining in the third quarter was the lone touchdown of the second half.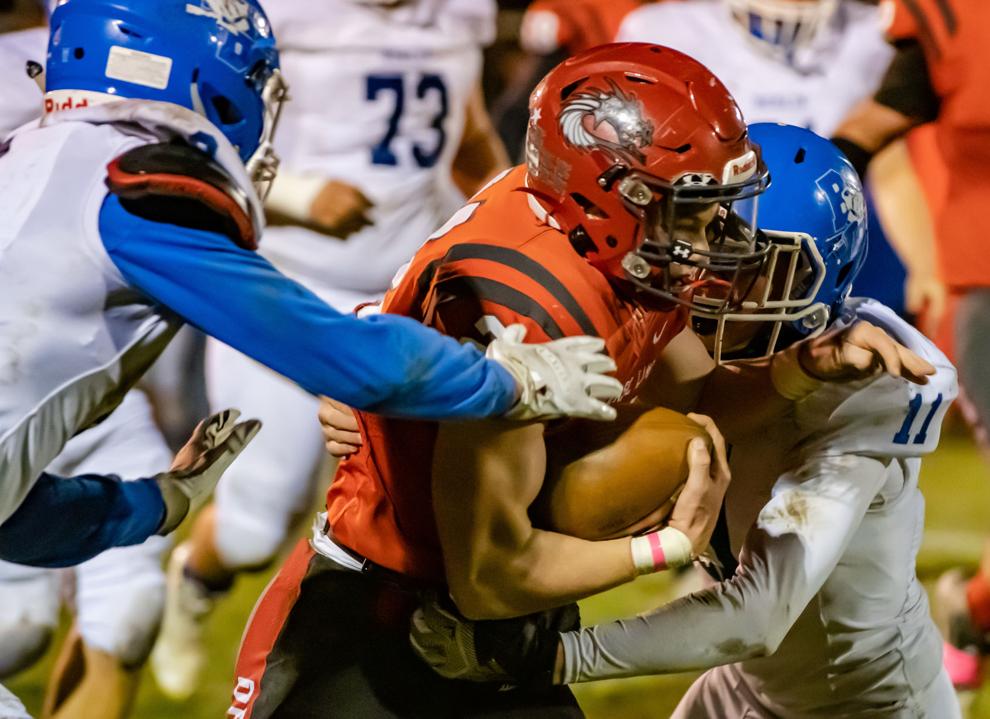 Purchase Line's Josh Syster and Cullen Goncher who have combined for more than 1,800 yards and 23 touchdowns this year, were limited to 63 and 37 yards, respectively, and were kept out of the end zone.
Kyle Day also contributed an interception for the Red Dragons, who last played Berlin 31 years ago.
Blubaugh, on the other hand, accounted for nearly as many yards as the Red Dragons' offense, finishing with 178. He had 16 carries for 121 yards and a touchdown and added three receptions for 57 yards and another score.
Spochart passed for one touchdown, picked off two passes and recovered a fumble for the Mountaineers.
Berlin earned a rematch with Meyersdale in the District 5 2A playoffs after suffering their lone loss to the Red Raiders in the regular season.
"The defense stepped up huge," Paul said. "That's a heck of a football team over there. We really thought this was the second-best team in the Heritage Conference. They let a couple games slip away from them this year.
"We're really glad to get out of here with a win."